ACTIVITIES IN KINOSAKI
NOSTALGIC STROLLS THROUGH AN ONSEN TOWN
With a history of about 1,300 years, the hot spring town of Kinosaki Onsen in Toyooka, Hyogo Prefecture, has long attracted visitors with its acclaimed waters and scenery of traditional architecture and surrounding nature.
Back in the Edo Period (1603 to 1868), Kinosaki Onsen was reputed to be "the country's best hot spring." It seems little has changed — in 2013, it was awarded two out of three stars in the Michelin Green Guide Japon.
For inbound travelers, this charming town nestled in a valley ringed by mountains and rivers is replete with quintessentially Japanese experiences. Unwinding in an onsen and strolling down willow-lined streets wearing traditional yukata (light cotton kimono) are but two examples.
A favorite and enduring activity among visitors over the years is seeking out the seven famous public baths of Kinosaki. With each being located within walking distance of each other, visiting these bathhouses provides a good opportunity to take in the town's landscape and nostalgic atmosphere.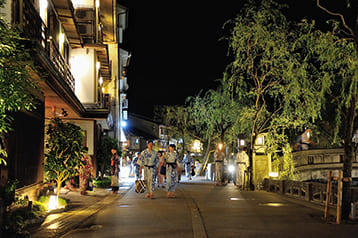 The Satono-yu bathhouse might be a good point to start as it's conveniently situated next to Kinosaki Onsen Station on the JR Sanin Main Line. Jizou-yu, Ichino-yu, Goshono-yu and Kouno-yu are recommended for early birds, opening as early as 7 a.m. Yanagi-yu exudes a traditional and homey atmosphere, while Mandara-yu has a distinctive facade with a mountain at its back.
For more information on the seven baths, visit https://visitkinosaki.com/in-the-area/kinosaki-onsen/hot-springs/ .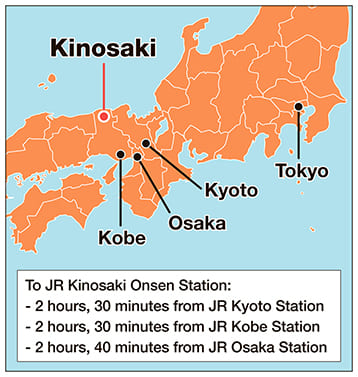 To further immerse themselves in the spirit of the town, visitors are encouraged to don yukata and geta footwear. Meandering along the Otani River or looping through the idyllic streets and paths is perfect for those seeking repose and reflection.
Ryokan (traditional inns) may offer guests yukata to wear during their stay. For those on day trips, rental shops are available.
To learn more about strolling and yukata, visit https://visitkinosaki.com/about-kinosaki/strolling-the-town-in-yukata/ .
General accommodation information is available at https://visitkinosaki.com/lodging/inn/ . Among the many ryokan and hotels, Nishimuraya Honkan (http://nishimuraya.ne.jp/honkan/english/index.php) and Hotel Kinparo (https://www.kinparo.com/en/index.html) are particularly recommended.
Delectable food is another important element that makes visiting Kinosaki an unforgettable and enriching experience. There are numerous restaurants, cafes and izakaya (Japanese pubs) to choose from.
In terms of delicacies born from the region, travelers should seek out Tajima beef. Cultivated in the northern area of Hyogo Prefecture formerly known as Tajima, including the city of Toyooka, this marbled, succulent beef is served at various eateries within the onsen town.
* * *
To make the most of the trip to the Kinosaki Onsen area, here are some of the popular activities organized by Voyagin Inc., which offers both seasoned and novice travelers valuable information and insight.
The following two programs delve into other interesting aspects the district has for international tourists. Photos for each program are provided by Voyagin.
---
Zazen and matcha tea at Gokurakuji temple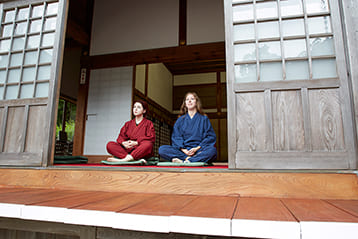 Following a walking tour of Kinosaki Onsen, this guided excursion takes guests to Gokurakuji temple on the outskirts of town to experience zazen (seated meditation) and savor matcha tea.
At the temple — which is famous for its tranquil Japanese rock garden — participants tour its grounds before being given samue (monk's work clothes) in preparation for zazen. Following the session, a temple priest will give a Buddhist sermon and a lecture. Afterward, guests are invited to chat with the priest over a cup of matcha and Japanese sweets.
Price: From ¥3,300
Duration: From 1 hour, 30 minutes
URL: https://voyag.in/gokurakuji-zazen
---
Cycling or hiking the Kannabe Highlands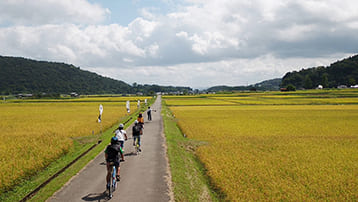 On this tour with an English-speaking guide, participants choose either cycling or hiking through the forest to a waterfall surrounded by the sweeping nature of the Kannabe Highlands near Kinosaki Onsen.
Though their itineraries differ, both excursions give guests the chance to see the crater at the top of 469-meter-high Mount Kannabe.
The cycling excursion incorporates harvesting seasonal organic vegetables, while hiking includes collecting edible wild plants. For lunch, guests can enjoy an outdoor cookout at either Rin-en Farm on the cycling course or Nanairo Mountain Lodge on the hiking course.
Price: ¥10,500
Duration: 4 hours, 30 minutes
URL: https://voyag.in/kannabe-cycling