YOKOHAMA / TOKYO
ENJOYING RUGBY, MORE IN THE CITY OF FIRSTS
Sponsored by Yokohama City
As the city home to Japan's first documented rugby club dating back to at least 1866 and many other landmark events, Yokohama takes pride in hosting Rugby World Cup 2019 matches.

This year's semifinals and final are scheduled to take place at International Stadium Yokohama that can seat some 72,327 people. The venue is easily accessible from numerous locations that include the immediate Shin-Yokohama area, the central Yokohama district (around 17 minutes away by train) and Tokyo (about 18 minutes via shinkansen and roughly 40 minutes by local train).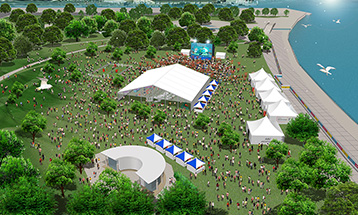 For those who didn't get tickets but are in the area, Rinko Park's spacious lawn in Yokohama's Minato Mirai area, as well as 11 other locales across the country, is set to transform into an official "fanzone" that is scheduled to broadcast 32 of the tournament's 48 matches live on a 380-inch screen.

This international gathering space is designed to accommodate up to 10,000 people and is poignantly located adjacent to the waters of Yokohama Port, one of the first ports in the nation to open to the outside world in 1859 after over 200 years of isolation.

The fanzone will also hold rugby-themed activities for all ages to take part in. A cultural mishmash of food stalls will also be set up; each will churn out local favorites such as shūmai dumplings and inarizushi (deep-fried tofu stuffed with rice) alongside fare from competing countries.

For those in the mood to explore between matches, the classical Sankeien Garden makes for a picturesque way to experience late autumn's stunning crimson and gold foliage in the city. It may be the wrong season for drinking under the cherry blossoms, but beer enthusiasts will be pleased to find Yokohama is home to over 50 establishments serving craft brews, befitting of the city where Japanese beer was born. (Visit https://www.yokohamajapan.com/things-to-do/T05.php for more information on Yokohama night life.)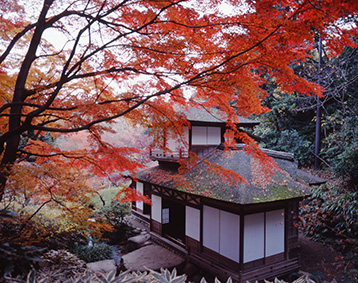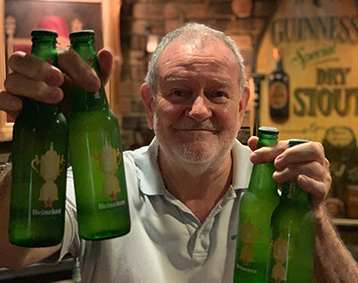 The centrally located stadium and fanzone also give fans in search of a sit-down meal ample options. Be it in celebration or commiseration after a match, delicious food and drink are never too far away in both the Shin-Yokohama neighborhood and wider area.

The retro Akai Kutsu bus, painted a classic brick red and cream, is especially convenient when on the hunt for a bite to eat. The bus stops at several quintessential tourist spots across the city, the down-to-earth Noge neighborhood being one of them. This particular area has retained its Showa Era spunk of yesteryear and, come sundown, is a hub for multicultural dining options and affordable drinks. (See https://www.yokohamajapan.com/article/rugby/ for more tourism information.)

The renowned Chinatown is another unmissable stop on the line that packs some 620 shops and restaurants within 500 square meters. From mild and flavorful Cantonese dining to spicy Sichuan dishes, some of the Chinese restaurants will extend their hours to midnight during the World Cup.

For further information on all of the above, visit the "Rugby World Cup 2019 in Kanagawa-Yokohama" official homepage at https:/rugby.city.yokohama.lg.jp/en .
---
'FANZONES' CONTAIN AN ARRAY OF ATTRACTIONS
Sponsored by Tokyo Metropolitan Government
As the excitement for the upcoming Rugby World Cup 2019 in Japan builds, various preparations are being made to make the tournament more enjoyable and memorable for both event ticket holders and nonticket holders alike.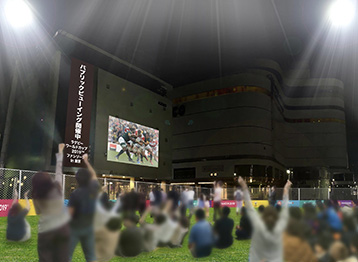 In Chofu, Tokyo, the indoor and outdoor Tama "fanzone," comprised of four areas, will be filled by the roaring cheers of rugby fans at the nearby Tokyo Stadium during the 18 days from the date when the first match will take place.

In the spacious 34-by-79-meter Stage Area, a gigantic outdoor 250-inch LED screen will be installed to broadcast the matches. Various stage events will also be held in the area, including commentators looking back on the highlights of each match, concerts and cultural performances by local groups.

Visitors to the area can also fill their stomachs with delicious and reasonably priced Japanese food such as yakisoba (fried noodles) and udon (thick wheat noodles), as well as other dishes from around the world that include fish and chips and lasagna.

In the Indoor Hall Area, fans can watch the matches on an 8.9-by-5.2-meter screen, while in the Rugby Activities Area children to adults can receive brief rugby lessons from the sport's top players.

The Culture Exchange Area allows visitors to try on kimono, learn about the countries competing in the World Cup and discover the Chofu neighborhood's top tourist spots and local specialties. Of further note is the shuttle bus service that will run between Chofu Station and the stadium when the matches are played in the area.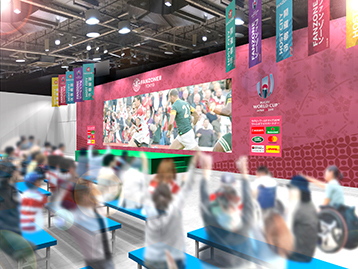 A centrally located fanzone in Tokyo, meanwhile, is located on the first to third floors of Tokyo Sports Square. Here, all 48 matches played throughout the archipelago from Sept. 20 (Friday) to the finals on Nov. 2 (Saturday) can be enjoyed on a huge 10-by-3-meter high-resolution multivision screen. The screen is complemented by superb sound equipment to convey the live atmosphere of each game venue.

Tokyo Sports Square also offers alcoholic drinks and snacks from around the world on the first floor, as well as a carpeted second floor space for relaxing with family and friends. Visitors to this site can also learn more about traditional Japanese culture, find out about the World Cup participating countries, obtain information on nearby attractions and dining options, take photos and attend various stage events. The site is also the place to see uniforms worn by past star players on display or purchase official Rugby World Cup 2019 goods.

The Tama fanzone is located right in front of Chofu Station on the Keio Line, while the Tokyo fanzone is right in front of JR Yurakucho Station inside the Tokyo Sports Square. For further information and updates on fanzones in Tokyo, visit fanzonetokyo.jp .