CRAFTS Ⅰ
FROM BLADES OF BATTLE TO KITCHEN ESSENTIALS
A Japanese chef's relationship with his knife is said to be akin to that of a samurai and his sword.
It should therefore come as no surprise for those interested in Japanese knives, popular for their distinctive designs and remarkably sharp blades, that the techniques used to craft some of today's most desirable culinary tools are the same used to manufacture katana (samurai swords) centuries ago.
The arrival of the Black Ships in Japan during the 19th century under U.S. Commodore Matthew Perry demanding to open the nation's isolated ports to trade heralded the shift from sword to knife making.
Japan's occupation by the U.S. after World War II saw a ban on katana manufacturing and possession. The ban saw highly skilled artisans directing their talents toward kitchen knives. Gen. Douglas MacArthur's prohibition on swords was lifted after seven years, but sword making was restricted to just a few pieces per year, thus stimulating knife production.
Blacksmithing and the production of agricultural tools also bear influence on the history of Japanese knives. Metal forging techniques, skills and designs have been passed on from generation to generation by dentōkōgeishi or traditional craftsmen recognized by Japanese local governments for their remarkable skills and preservation of traditional techniques.
Consequently, Japan's knife-making culture is not limited to any one area. The knowledge and expertise of the various knife-making communities throughout the country, along with workers' skills mastered through centuries of experience, all speak of the richness of Japan's metalsmithing heritage.
Specialist retailers such as Tsubaya (https://tsubaya.co.jp/) in Tokyo's Kappabashi district are familiar with the nation's finest blacksmiths, craftsmen and production houses. Stocking over 1,500 knives, the store has strong relationships with famous blacksmiths and knife-making artisans from areas such as Sakai, Osaka Prefecture; Echizen, Fukui Prefecture; Sanjo, Niigata Prefecture; Tosa, Kochi Prefecture; and Seki, Gifu Prefecture.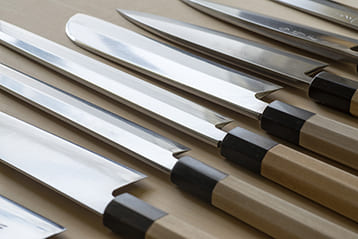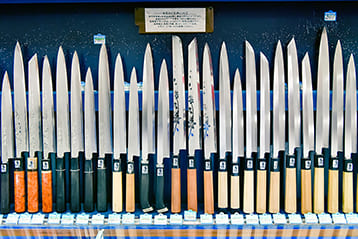 ---
Sakai region
While typical knife manufacturers handle all aspects of the production process — blade forging and hammering, steel grinding, handle creation and engraving — Sakai's point of difference is that each of these tasks is handled by individual specialists. This division of tasks has helped create and foster a large and vibrant community of knife blacksmiths and craftsmen within Sakai.
The history of local blacksmithing dates back to when the mausoleum of Emperor Nintoku, officially called Daisen Kofun, was built in the fifth century and workers from all over Japan gathered to help forge metal tools. In the 13th century, Sakai was designated as the capital for samurai sword production and blacksmiths were called to settle there and make weapons. Community roots developed further in the 16th century when tobacco farming was introduced to Japan by the Portuguese and specialist tools were needed to cut the crops.
URL: https://www.sakaiknife.com/index.asp
https://www.sakai-tcb.or.jp/en/feature/detail/28
---
Echizen region
Echizen's blacksmithing traditions have their origins in manufacturing swords, sickles and specialist tools used in the production of the area's world-famous lacquerware. It is said that roughly 700 years ago, a celebrated swordsmith visited the area in search of pure water to help anneal swords. He initially settled in the Takefu area, which remains as the hub of Echizen's knife production today.
URL: http://info.pref.fukui.lg.jp/tisan/monosato/en/uchihamono.html
---
Sanjo region
The Tsubame-Sanjo area is known as a hotbed of blacksmithing and metalware production. From the 17th century onward, nail production became the area's secondary industry after agriculture when frequent flooding forced local farmers to diversify and take on extra work.
The reputation of Sanjo blacksmiths grew and within generations, workers began making farming tools and other implements.
Today, local blacksmiths are renowned for continuing with specialized hammer-forged techniques, as well as producing fine knives and cutlery. The area even boasts its own festival where visitors can see blacksmiths at work.
URL: https://kouba-fes.jp/
http://enjoyniigata.com/en/detail/page/detail/4480
---
Tosa region
Knife manufacturing culture in Tosa, a region hemmed by ocean and mountains, speaks of wild landscapes and trees. The area's isolation saw an initial need for strong cutting implements that could cut through thick swaths of forest.
Tosa's isolation also saw it develop a distinct knife culture, where knives are made somewhat differently from elsewhere in Japan. It is said that blacksmiths are fond of hammer-forged techniques and making kurouchi knives.
URL: http://visitkochijapan.com/things_to_do/tourist_attractions/tosa_forged_blades.html
---
Seki region
Seki blacksmiths have been tinkering with steel for over 700 years. The swords of Seki were known as Japan's best and were prized by warlords for their superior sharpness and quality. Seki has abundant steel, charcoal, water and soil, all necessary materials for manufacturing weapons and knives. Many chefs consider Seki knives to be some of the best in the world due to their finish and durability.
Seki has a knife-making festival where visitors can see the wares for themselves and learn more about its steel and blacksmithing history.