KOBE TOURISM
A WEALTH OF ART AND DISCOVERY IN THE CITY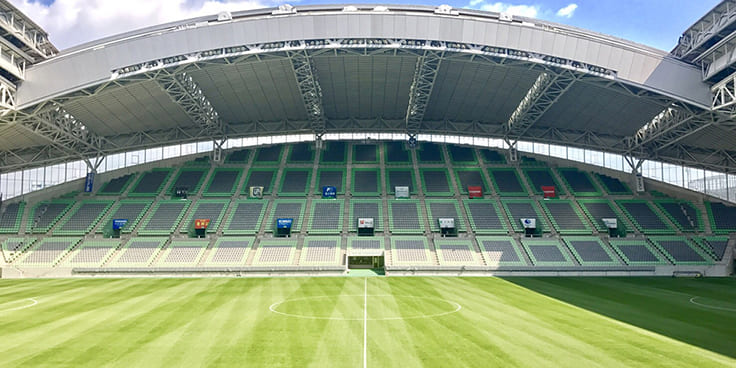 Between Sept. 26 and Oct. 8, the city of Kobe in Hyogo Prefecture will host four Rugby World Cup 2019 games at Kobe Misaki Stadium, located in the city's waterfront area. During and around that time, there will also be many outdoor and indoor events for visitors of all nationalities to discover throughout Kobe.
---
Rokko Meets Art 2019
Rokko Meets Art 2019 is a series of modern art exhibitions that will take place concurrently between Sept. 13 and Nov. 24 at nine venues along the Rokko mountain range that stretches in parallel to the Seto Inland Sea and sandwiches the city of Kobe.
For the 10th anniversary of the event, 42 artists have gathered to present their work. Hopping onto the Rokko Sanjo Bus is a convenient way to visit all five areas, but travelers may also enjoy walking — some pieces are displayed outdoors and blend into the natural mountain scenery.
Most of the venues are open from 10 a.m. to 5 p.m. every day during the exhibition period. However, during the duration of the Night Museum art walk that begins on Oct. 18, the Rokko International Music Box Museum and Rokko Alpine Botanical Garden will be open until 7:30 p.m. on Fridays, weekends and holidays, and until 6:30 p.m. from Monday to Thursday. At the Night Museum, visitors will be able to see works exclusively exhibited at night as well as the illuminated autumn leaves and a spectacular night view of the Kobe harbor area in the clear autumn air.
Tickets include two days of unlimited rides on the Rokko Cable Car and Rokko Sanjo Bus. Rokko Cable Shita Station, the starting point of the cable car, is accessible via the Kobe City Bus from JR Rokkomichi, Hankyu Rokko and Hanshin Mikage stations. Additional information and detailed ticket prices can be found on the event's website.
---
Trans-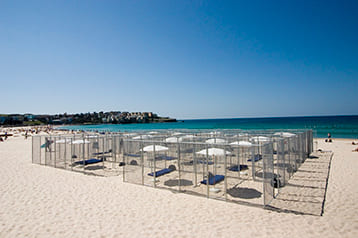 Trans- is another art event that will take place in Kobe between Sept. 14 and Nov. 10. Two contemporary artists will exhibit their large-scale works using the city as their canvas.
German artist Gregor Schneider is known for his many large installations and renovation pieces. In Kobe, he has constructed four such projects, including installations in an office building, a hostel and a station bathroom. These are scattered around the Shinkaichi, Hyogo Port and Shin-Nagata areas, which are located adjacent to each other along the JR Sanyo Line and various subway lines.
Another artist who will participate in this project is Kobe-born photographer, artist and theatrical director Miwa Yanagi. Her outdoor play, "Nichirin no Tsubasa," or "The Wings of the Sun," will be performed at a pier in the Kobe Central Wholesale Market in the neighborhood where she was born.
The play is based on a novel by Kenji Nakagami and incorporates acting, singing and pole dancing, as well as rock music and circus performances. It has traveled around Japan and has been performed at five sites so far.
---
Try! Kobe
The Economic and Tourism Bureau of the city of Kobe has launched a bilingual website with information on local sightseeing, shopping, restaurants and sports. Along with other features, the website's Dining section not only displays a map and each location's hours, but also includes whether there is a cover charge or not. It also lists whether credit cards are accepted and if smoking is allowed to help visitors make the best choice on their gourmet adventures in Kobe.
---
Golf in Kobe
As an online golf course reservation service in English, Playgolf-Kobe Hyogo, makes it easier for international travelers to reserve golf packages. The packages includes greens fee, round-trip taxi, rental clubs and shoes. Current rates are available through Oct. 15. Autumn is one of the best times to play golf as the air is dry and cool, and the leaves are changing colors.
URL: https://www.playgolf-japan.com/kobehyogo/
---
Experience life and culture
To help better understand both traditions and modern life in Kobe, 25 tours are offered between Sept. 20 and Oct. 15 on the Kobe Experience Guided Tour website. They include visiting a sake brewery, eating Kobe beef, touring areas affected by the Great Hanshin Earthquake, attending a tea ceremony, wearing hakama (traditional kimono pants) or visiting the abandoned Maya Hotel on Mount Maya. All tours are given in English.
URL: https://plus.feel-kobe.jp/en/guide/
---
Autumn tourism information
More tourism information is available on a website launched by the Kobe Tourism Bureau. It offers a one-stop solution for those who want to enjoy traveling around Kobe and neighboring areas, as well as detailed information on accommodations and transportation and places of interest and seasonal events.