OSAKA TOURISM
DIVERSE ACTIVITIES FOR EVERY TRAVELER
Autumn in Osaka is a season for enjoying diverse activities, both indoor and outdoor, traditional and modern. Having been the host city of the recent G20 summit, Osaka is also ready to welcome more international visitors for conferences or leisure.
---
Luxury and wellness
The luxury and wellness website produced by the Osaka Convention and Tourism Bureau presents a wide variety of activities and high-quality services in Osaka and neighboring prefectures. Recommended activities include traditional, gourmet and nature experiences, as well as services related to wellness and beauty.
Users may contact certified concierges online for trip planning and reservations for any activities of interest on the website. After hearing the users' must-haves, a concierge will create an original activity package that may include guides who speak various languages and transportation by taxi.
One activity offers a sumo training session taught by rikishi who belong to corporate sumo teams and former professional rikishi at the dohyō that was used by the 69th yokozuna Hakuho. The wrestlers will serve guests chanko-nabe, a hot pot dish often made and eaten by rikishi.
There is also a tea-focused activity that allows guests to experience the way merchants of the Middle Ages in Osaka's city of Sakai spent their holidays at Myohoji temple, a former social hub for local traders. Guests can wear a traditional costume, listen to a special Buddhist prayer and partake in a meal served with tea.
URL: https://wt-osaka.jp/
---
Kabusanji temple and Takatsuki
Kabusanji temple in the city of Takatsuki has stood in the quiet mountains since 697, away from the bustle of the city and tourist spots.
This peaceful environment in the northern part of Osaka Prefecture is still preserved today, offering an ideal location for those who want to enjoy autumn foliage away from city crowds.
The temple is 20 minutes on foot from Kabusanguchi bus stop, a 40-minute bus ride from JR Takatsuki Station on the JR Kyoto Line. The city of Takatsuki also boasts a few renowned sake breweries, one of which is Kotobuki Brewing Co. that was established in 1822. The brewery produces both local beer as well as Kuninocho, its signature sake.
URL: https://osaka-info.jp/en/page/kabusanji
http://kabusan.or.jp/
http://www.kuninocho.jp/
---
Festival of the Lights in Osaka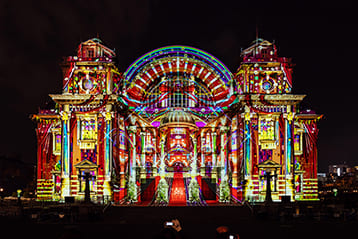 Home to one of Japan's most famous illumination events, the Festival of the Lights in Osaka 2019 will take place from November to January. It consists of two sub-events, one being Midosuji Illumination 2019 that begins on Nov. 4 and runs through Dec. 31.
This event spans 4 kilometers between the Umeda and Namba districts on Osaka's Midosuji street. A kick-off ceremony will take place from 5 to 7 p.m. on Nov. 4 in the area between the Honmachi and Shimbashi intersections; it is a rare instance of having all six lanes open only to pedestrians.
The other sub-event is Osaka Hikari Renaissance, held from Dec. 14 to 25 in areas between Osaka City Hall and Nakanoshima Park. Projection mapping on the wall of the Osaka City Central Public Hall is a main feature of this event. The red brick and bronze-roofed building built in the neo-Renaissance style is a tangible cultural asset that was constructed in 1913.
The Festival of the Lights in Osaka 2019 can be enjoyed from any station between Umeda and Namba on the Osaka Metro Midosuji Line.
Many more illumination events will be held from November to January across Osaka Prefecture, organized as area programs related to the festival. Specific venues and dates will be announced at a later date.
---
Art Gush in Izumi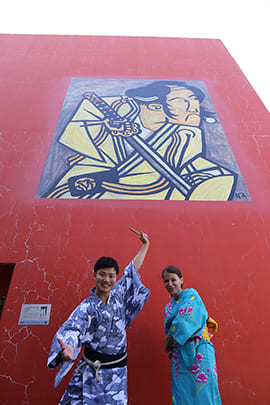 Art Gush is an outdoor exhibition event held in the city of Izumi where murals inspired by famous works owned by the Kuboso Memorial Museum of Arts decorate streets and buildings.
The collection of Eastern and Western art spans a variety of styles and time periods. Of this collection, 30 pieces created by iconic artists of yesteryear were selected for 30 artists of today to reinterpret.
Works of great artists such as Katsushika Hokusai, Toshusai Sharaku, Claude Monet and Vincent van Gogh have gained new life through the unique flair of each participating artist; each is either from or connected to the Kansai region in some way.
The painted murals can be found within a 2-kilometer radius that stretches between Izumi-chuo Station on the Senboku Rapid Railway Line and the museum. Integrated into the cityscape, visitors can search for them with a handy map or discover them on their own.
---
Osaka MICE Destination Showcase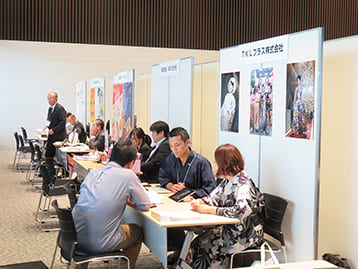 Osaka, the city that led this year's successful G20 summit in June, will hold an event dedicated to promoting the city as an ideal destination for meetings, incentives, conferencing and exhibitions (MICE) on Dec. 2 and 3.
The Osaka MICE Destination Showcase will not only exhibit facilities and services useful for planning and conducting events, but also provide opportunities for participants to talk directly to representatives of the exhibitors on the first day. The venue for the exhibition is the Congres Convention Center located in the Grand Front Osaka building, which has direct access from JR Osaka Station. A tour of recommended venues for events and conferences will be offered on the second day. Admission is free, but online reservations are necessary.