SUMIDA WARD
VIVID HOMAGE AND CONTEMPORARY SPECTACLE
Located in the eastern part of Sumida Ward in central Tokyo is an attractive downtown area where tradition meets modern design and new cultures are developing. It is home to the towering Tokyo Skytree and grand Ryogoku Kokugikan arena where Tokyo sumo tournaments are held. The Sumida River that runs between Sumida Ward and Taito Ward is famous for Sumida River Fireworks, one of the oldest fireworks festivals in Japan.
The Sumida Hokusai Museum (https://hokusai-museum.jp) was established in 2016 to commemorate the life of Katsushika Hokusai, one of Japan's most renowned ukiyo-e painters of the Edo Period (1603 to 1868), as well as to contribute to local industries and tourism. Hokusai spent almost all his life in Sumida, producing modern and unique designs that have inspired countless artists internationally to date.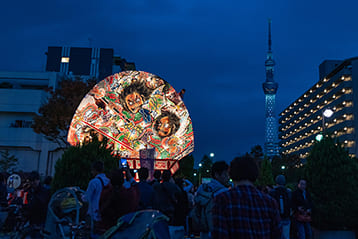 This autumn, there will be a series of art events that symbolize the city of art and culture. One of them is the Hokusai Matsuri to be held on Oct. 19, which will be a neputa (lantern float) festival and will take place on Hokusai-dori street, which runs from Ryogoku to Kinshicho.
Neputa is a kind of festival originally held in the northern prefectures of Japan. A few colorful neputa standing about 7 meters tall will be brought from the city of Hirosaki in Aomori Prefecture to the festival. One may wonder what the connection between the downtown of Sumida and the northern city of Hirosaki is; it is Hokusai that united the two distant locales.
On the site of the Sumida Hokusai Museum once stood the residence where the lord of the Hirosaki Domain stayed while he was in Edo (present-day Tokyo). It is said that through this connection, Hokusai's art style became known and popular in Hirosaki, and has even inspired neputa creators to design floats resembling the artist's works.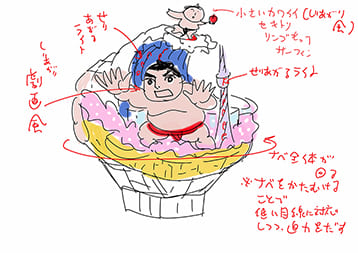 Besides the floats from Hirosaki, there will be an original neputa float designed by Shiriagari Kotobuki, a well-known and leading artist in the manga subculture. Having visited this summer's Hirosaki Neputa Festival to gain inspiration, float creators from Hirosaki will make his design into a lantern float that will be exhibited at the YKK 60 Building near the museum after the festival until November.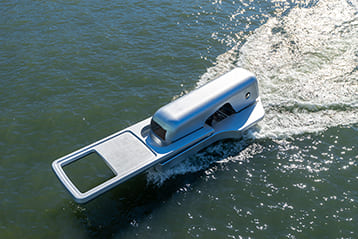 There will also be a number of events taking place at the waterfront area. "Zip-Fastener Ship," an artwork of a zipper-shaped boat made by contemporary artist and designer Yasuhiro Suzuki, will sail daily between the Azumabashi and Sakurabashi bridges on the Sumida River from Nov. 2 to 10.
Looking down on the boat from the above, it looks like it is unzipping the water's surface. "It is as if to separate two conflicting things such as play and work, or holy and profane, and to put them back together. The border continuously opens and closes," said Yasuko Ogiwara, the director of Sumida River Sumi-Yume Art Project, an organization sponsoring the event.
In addition, on the wide Sakurabashi bridge, stretching about 150 meters from one side of the river to the other, a Bon odori (summer folk dance) will be held in the evening of Sept. 22. The event is named Sumidagawa Wa-odori (circle dance), inspired by one of Hokusai's prints "Odori Gyoretsu-zu" ("Image of dance parade").
On the same bridge, a fashion show produced by Yoshinari Nishio, an artist who produces works on the relationship between fashion and communication, will take place on Oct. 26. The show will involve the local people of Sumida as models and planners. The concept revolves around gyōshō-nin, or peddlers, and the models will use their bodies to display various products. Things found or borrowed from local stores on the shopping street in the area will be used to decorate their bodies. "Sumida, a town of manufacturing, is home to a number of factories that make knitted fabrics and leather products. The show will be a rare opportunity to display such materials as they are," said Ogiwara.
There will be many more art events such as giant kami-zumo (paper sumo) matches, a hand-made amusement park produced by installation artist unit Kosuge 1-16, a shadow play by shadow puppeteer and musician Koheisai Kawamura and many other performances and workshops organized by local groups.
"Sumida is a place where Edo culture was nurtured. We would like to combine the traditions that remain in the area with new ideas, adding the creativity of the present day," said Ogiwara.