RUGBY
RWC PREPARES FOR HISTORIC ASIAN DEBUT
The ninth Rugby World Cup, the first ever to be held in Asia, will kick off on Sept. 20 at Tokyo Stadium when Japan faces Russia in the opening match.

The event will also mark the first time for a tier-two nation to host the tournament — something that World Rugby hopes will serve as a catalyst for expansion of the game beyond its traditional heartlands.

Japan will join 19 visiting teams, split into four pools, competing for the Webb Ellis Cup in a total of 48 matches spread over 12 venues nationwide.

Among those stadiums, two grounds stand out for their significant impact on Japanese rugby.

With major renovations having been completed last year, Hanazono Rugby Stadium in Osaka Prefecture is regarded by many as the spiritual home of Japanese rugby. Built in 1929, the oldest stadium in Japan is home to the annual National High School Rugby Tournament and will host four World Cup matches.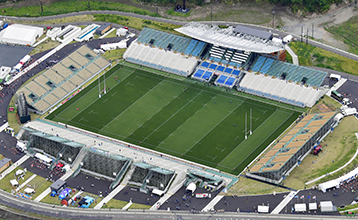 In March 2011, a devastating earthquake and tsunami struck the Tohoku region of Japan. One of the worst affected areas was Kamaishi, a rugby-mad town located in Iwate Prefecture.

To remember the people who lost their lives in the disaster, and also to pay tribute to the ongoing rebuilding efforts, Kamaishi Unosumai Recovery Memorial Stadium was constructed. The stadium sits on the site where Kamaishi's elementary and junior high schools once stood before massive waves swept inland.

The town was awarded two World Cup games to help galvanize recovery efforts and commemorate Kamaishi's rich rugby history.
The Rugby World Cup is held once every four years. Since its launch in 1987, only four teams have hoisted the Webb Ellis trophy.

New Zealand is the most successful side with three titles.

Australia and South Africa have two championships apiece, with the remaining title going to the only Northern Hemisphere team to lift the cup — England.

According to the current world rankings, a mere 2.15 points separate the top five countries.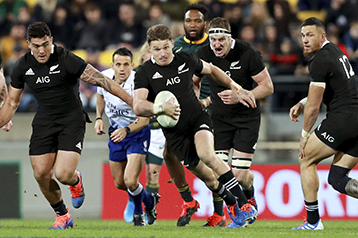 On Aug. 19, Wales led the pack after becoming the first nation to put an end to New Zealand's decade-long stranglehold on the No. 1 position. After losing twice to Ireland in successive weeks, however, it is Ireland who now tops the list, 0.07 points ahead of New Zealand.

England is at three while South Africa and Wales take up 4th and 5th places respectively.

As past Rugby World Cups indicate, however, withstanding the pressure of one-off matches is pivotal to being crowned champion, and there is no team more experienced than New Zealand in dealing with such adversity.

It's what makes the All Blacks favorites to claim a historic three-peat despite this World Cup promising to be the most unpredictable ever with six or seven nations in with a chance.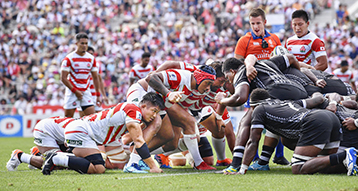 Japan has deservedly broken into the top 10 for the second time in its history, moving up two places to secure ninth position on the back of the team's dominating performances in the recent Pacific Nations Cup.

The Brave Blossoms blew past Fiji 34-21 and completely dismantled Tonga 41-7 before rounding off the clean sweep, and their third PNC title, with a comfortable 34-20 victory over the United States.

Last weekend, however, the Brave Blossoms slipped to No. 10 in the rankings after losing to a vengeful South African side 41-7.

For the 2019 tournament, the hosts have been drawn into Pool A alongside Russia, Ireland, Samoa and Scotland.
While Ireland is expected to win the group, Japan's head coach Jamie Joseph has set his side a target of reaching the top eight.

There will also be added pressure for Joseph's men to advance from their pool as seven out of eight host nations have done so previously — with the exception of England in the 2015 Rugby World Cup when the hosts finished third in their group.

Both matches against 16th-ranked Samoa and 20th-ranked Russia are almost certainly in the bag for the Brave Blossoms but Scotland (ranked seventh) and Ireland will provide much stiffer competition.

Japan last met the Scots on home soil in 2016 when the visitors carved out two unconvincing victories over the Brave Blossoms.

Ireland on the other hand cleaned up Japan in a two-test series in 2017, even though most of the Irish first-choice players were away on the British Lions tour of New Zealand.

If either Japan or Scotland loses to Ireland, then a victory against the Scots on Oct. 13 in Yokohama will be paramount to Joseph's goal being realized.

Should Japan make history and enter the knockout stages, it will be a just reward for a country that suffered the ignominy of winning three out of four group matches in the 2015 Rugby World Cup but failed to progress to the quarterfinals.

The opening round of that tournament produced arguably the biggest upset in World Cup history when the Japanese edged a heavily favored world No. 2 South Africa 34-32.

The incredible never-give-up attitude displayed by Japanese teams, when combined with home advantage, means Ireland cannot afford to be complacent against a confident Brave Blossoms' side on Sept. 28 at Ogasayama Sports Park Ecopa.

Whichever teams take the top two spots in Pool A will square off against the winner and runner-up of Pool B in the quarterfinals.

On Sept. 21, the All Blacks and a resurgent Springboks side will face each other at International Stadium Yokohama to determine which side will finish on top of Pool B (which also includes Canada, Italy and Namibia), and avoid a potential final-eight clash with Ireland.

It's undoubtedly the highlight showdown of the pool stages, as the last three matches between these two fierce rivals have resulted in a draw and one away victory apiece with a margin of just two points.

Pool C contains Argentina, England, France, Tonga and the United States. This should be a tight group as Eddie Jones' England is likely to come out on top and Argentina and France will be battling it out for second place.

France is renowned for being dangerously unpredictable at World Cups and the Pumas have been known to play out of their skins, reaching the semifinals in the 2015 tournament.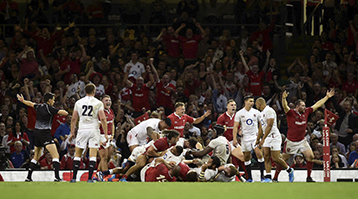 England was the second-best team in the 2019 Six Nations Championship, losing out to eventual winners Wales, and last month went down 13-6 to the same opponent in Cardiff after taking the first match 33-19 at Twickenham.

World No. 5 Wales heads Pool D with the sixth-ranked Wallabies, followed by Fiji, Georgia and Uruguay. Wales ended a 13-match losing streak by beating Australia 9-6 in its previous encounter in November last year and will be the team to beat in this group.
The flying Fijians are coming off a good win against the Maori All Blacks in July and might be the team to watch as the Pacific Island nation will look to cause an upset.

After what is sure to be six weeks of stunning world-class action from the get-go, the 72,327-seater International Stadium Yokohama will stage the final on Nov. 2.

Japan's showpiece will provide a once-in-a-lifetime experience for over 400,000 international fans expected to make the journey.

The main spotlight will be on the host nation however, as Japan seeks to deliver a Rugby World Cup that will not only blossom economically but also help fulfill World Rugby's plans of broadening the sport's fan base across Asia.
---
CATCH ALL RUGBY ACTION AT 'FANZONES'
For those fans unable to score tickets to watch Rugby World Cup games at stadiums across Japan, there are 18 dedicated "fanzones" located in the 12 cities hosting matches. At the fanzones, rugby fans can catch the action on big screens and take part in a variety of rugby-themed activities. Admission is free and various stalls will be selling a selection of local food and drink.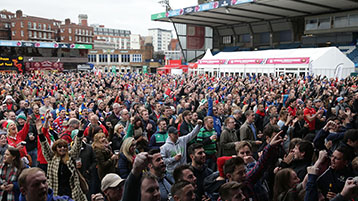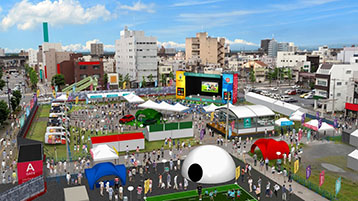 SAPPORO
Address: Odori Nishi 2, Chuo-ku, Sapporo
Closest Station: Odori
Open: Sept. 20-29
Address: Kita 5, Nishi 4, Chuo-ku, Sapporo
Closest Station: Sapporo
Open: Sept. 20-22
KAMAISHI, IWATE PREFECTURE
Address: 1-1-9 Omachi Kamaishi, Iwate
Closest Station: Kamaishi
Open: Sept. 20-Oct. 13, 19, 20, 26, 27, Nov. 1, 2
KUMAGAYA, SAITAMA PREFECTURE
Address: 2-62 Honcho, Kumagaya, Saitama
Closest Station: Kumagaya, Kami-Kumagaya
Open: Sept. 20-22, 24, 28, 29, Oct. 4-6, 9
TOKYO
Address: 3-8-3 Marunouchi, Chiyoda-ku
Closest Station: Yurakucho
Open: Sept. 20-26, 28-30, Oct. 2-6, 8, 9, 11-13, 19, 20, 26, 27, Nov. 1, 2
Address: 2-60 Kojimacho, Chofu / 2-47-1 Kojimacho, Chofu
Closest Station: Chofu
Open: Sept. 20-23, 28, 29, Oct. 4-6, 11-13, 19, 20, 26, 27, Nov. 1, 2
YOKOHAMA
Address: 1-1-1 Minatomirai, Nishi-ku, Yokohama
Closest Station: Minatomirai
Open: Sept. 20-22, 28, 29, Oct. 5, 6, 12, 13, 19, 20, 26, 27, Nov. 1, 2
SHIZUOKA PREFECTURE
Address: 1-1 Sumpujokoen, Aoi-ku, Shizuoka
Closest Station: Shizuoka, Shin-Shizuoka
Open: Sept. 20-22, 28,29, Oct. 4, 5, 9, 11, 13
Address: 320−1 Sunayama-cho, Naka-ku, Hamamatsu, Shizuoka
Closest Station: Hamamatsu, Shin-Hamamatsu
Open: Sept. 20, 28, Oct. 4, 5, 9, 11, 13, 26, 27, Nov. 2
Address: 12-1 Asahi-cho, Naka-ku, Hamamatsu, Shizuoka
Closest Station: Hamamatsu, Shin-Hamamatsu
Open: Sept. 20, 28, Oct. 4, 5, 9, 11, 13, 26, 27, Nov. 2
TOYOTA, AICHI PREFECTURE
Address: 1-20 Hachiman-cho, Toyota, Aichi
Closest Station: Toyotashi
Open: Sept. 20. 23, 28, Oct. 5, 12, 13, 19, 20, 26, 27, Nov. 2
KOBE
Address: 2-2 Hatoba-cho, Chuo-ku, Kobe, Hyogo
Closest Station: Minato-Motomachi
Open: Sept. 26, 28-30, Oct. 3, 5, 6, 8
OSAKA PREFECTURE
Address: 5-55 Chausuyama-cho, Tennoji-ku, Osaka
Closest Station: Tennoji
Open: Sept. 21, 22, 28, Oct. 3, 5, 13
Address: 1-1-43 Matsubaraminami, Higashiosaka
Closest Station: Higashi-Hanazono
Open: Sept. 20, 21, 22
FUKUOKA
Address: 1-1 Hakata-eki-Chuogai, Hakata-ku, Fukuoka
Closest Station: Hakata
Open: Sept. 20-22, 26-28, Oct. 2-5, 12, 13
KUMAMOTO
Address: 7 Hanabata-cho, Chuo-ku, Kumamoto
Closest Station: Karashima-Cho (tram)
Open: Sept. 20-22, 28, 29, Oct. 2, 5-13
OITA
Address: 1-1000-16 Higashiomichi, Oita
Closest Station: Oita
Open: Sept. 20, 28, Oct. 1, 2, 4, 5, 8, 9, 13, 18-20, 26, 27, Nov. 2
For further information on fanzones and rugby match schedules, see below:
https://www.rugbyworldcup.com/fanzones (fanzones)
https://www.rugbyworldcup.com/matches (rugby matches)