HAKUBA TOURISM
ADVENTURE AWAITS IN FRESH WATERS, OPEN SKIES
Situated in Nagano Prefecture, Hakuba is a paradise for outdoor activities. Though internationally renowned as a ski resort town, the village and its surrounding valley provide abundant opportunities to experience the region's natural riches off-season.

It takes approximately three hours to reach Hakuba from Tokyo via bullet train and bus, making it a great destination for day trips and enjoying Japan's vibrant greenery. There are also English-speaking guides available at activity centers to assist travelers throughout their outdoor excursions.
---
River and lake activities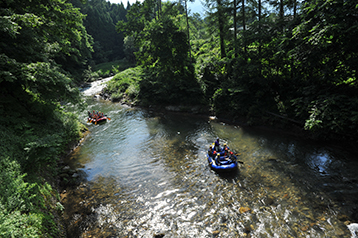 Some of Hakuba's most exciting outdoor activities take place on the water, and visitors can experience the region's beautiful rivers and lakes with leisure rafting and other activities. Children can participate in most of the activities, making Hakuba's waters the perfect setting for family adventures.

Hakuba's river activities center on the Saigawa, Himekawa and Hirakawa rivers. The Saigawa river is characterized by its calm waters and is an ideal choice for beginning rafters, who, while appreciating the lush nature of Nagano, can enjoy leisurely group rafting and inflatable kayaking. Meanwhile, more adventurous rafters can strap on scuba fins and ride on individual floats in what is called hydrospeed rafting. Visitors can also choose to ride down the river on stand-up paddleboards.

Rafting opportunities await on the Himekawa river as well. Featuring pristine water running through Hakuba village, the river is narrower than the Saigawa river and is great for admiring the village scenery. After riding the river, visitors can relax at the nearby hot springs and savor some barbecue at the restaurant inside the Hakuba Mominoki Hotel.

With the assistance of professional guides, visitors can explore the mountain stream of the Hirakawa river on foot. Great for beginners and children, this activity will take participants to waterfalls and other exciting discoveries.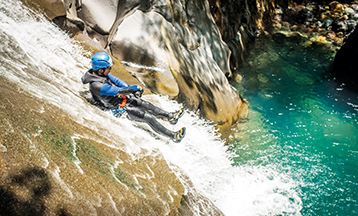 Those wishing to intimately experience Hakuba's nature should try canyoning, which takes trekkers on a journey through gorges, waterfalls and giant rock pools. Assisted by guides, participants can appreciate the region's beauty up close while cascading down whitewater chutes, rappelling and zip lining waterfalls and swimming through bodies of water. Canyon goers can arrange standard half- or full-day tours, in addition to a special tour through Nagiso, a beautiful large canyon in southern Nagano with high cliffs and stunning waterfalls. Private tours are also available.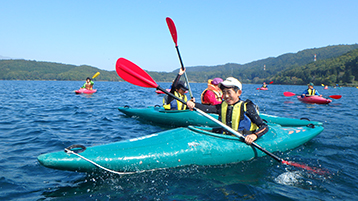 Hakuba's lake activities center on Lake Aoki, which features some of Nagano's clearest waters, fed by snowmelt and natural spring water. The lake's beautiful scenery, including Hakuba's mountains that can be seen reflected in the placid waters, will soothe visitors' spirits as they traverse this natural treasure.

The lake is a great spot for admiring Japan's seasonal colors, with the surrounding trees revealing red and yellow leaves in autumn. In addition to Canadian canoeing, in which two people share a canoe, and kayaking, the lake can be explored with stand-up paddleboards, as well as large canoes that accommodate up to 10 people on two-hour cruises.

Hakuba's river and lake activities can be enjoyed through the Hakuba Lion Adventure and Evergreen Outdoor Center, which arrange tours and other plans for visitors to get the most out of their stay.
---
Aerial journey through Hakuba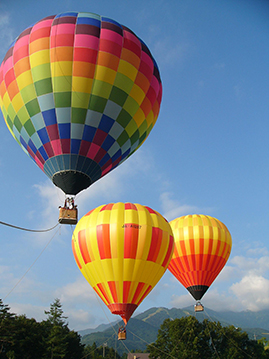 With its beautiful mountains, lush greenery and azure sky, Hakuba is a sight to behold from above, and from hot air balloons to single and tandem paragliding, Hakuba Lion Adventure lets visitors embark on thrilling adventures through the air.

For an unforgettable view of Hakuba, visitors can ride a hot air balloon floating 30 meters in the air. One hot air balloon accommodates at least 12 passengers, and toddlers accompanied by adults can also embark on the adventure. Passengers can board the balloon in everyday attire, making this the most leisurely way to appreciate Hakuba's beauty together with family while making unforgettable memories.
Those who want to conquer the skies on their own can try their hand at paragliding. Using the ski area's slopes, participants will create their own momentum to launch themselves into the sky. Adventurers who want to soar even higher can set off on a paragliding journey together with licensed pilots. At the peak of this tandem paragliding experience, riders will be able to admire Hakuba's natural splendor, including the northern alps, from 300 meters in the air.

Whether it be exploring beautiful bodies of water or taking in the region's sights from above, Hakuba offers endless opportunities to experience Japan's nature and revel in thrilling outdoor activities.

URL: https://www.evergreen-hakuba.com (Evergreen Outdoor Center)
https://hakuba.lion-adventure.com (Hakuba Lion Adventure)
---
RUGGED BEAUTY, DARING EXCURSIONS
Hakuba and its surrounding valleys are filled with majestic mountains and scenic trails, making it a wonderland for hikers and cyclists.

Tours with qualified English-speaking guides and instructors, as well as equipment rentals, are available for visitors of all skill levels. Hikers and cyclists would be hard pressed to find a better destination in Japan for these outdoor activities.

It only takes three hours to reach Hakuba from Tokyo by bullet train and bus, and in autumn, the trees that line the valley's scenic trails are covered in red and yellow foliage, creating an ideal setting to appreciate the season's colors.
---
Mountain biking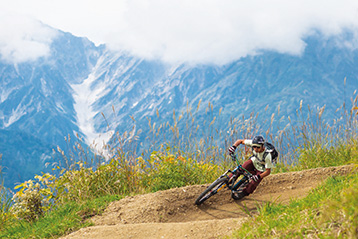 The beautiful lakes and mountain trails of Hakuba offer mountain bikers abundant opportunities to experience the region's beauty. Whether it's conquering downhill trails or enjoying pleasant scenic courses, there's something for mountain bikers of all skill levels to enjoy.

Autumn in Japan is famed for its colorful red and yellow leaves, and the mountain bike trails around Lake Aoki run through gorgeous scenic spots that elegantly capture the season. At activity center Hakuba Lion Adventure, visitors can join leisurely mountain bike tours around the lakeshore while admiring the autumn leaves of the trees surrounding the lake.

Evergreen Outdoor Center also offers a variety of mountain bike tours for riders of all levels to enjoy. Novice to intermediate riders as well as families with children interested in a scenic ride around Hakuba can join the Funride tour, which highlights some of Hakuba's most beautiful sights with trails around mountain rivers and through forests and rice fields.

Adventurous riders can get their thrills from the Evergreen Outdoor Center's Downhill tour, featuring trails catered to beginner, intermediate and advanced bikers. Visitors can ride to the top of the trail using a gondola or ride up in a van driven and loaded by the center's staff. The tour is great for learning techniques while gazing out on Hakuba's mountain range.

The center also offers private mountain biking tours for experienced riders to practice riding techniques, including jumps, drops, steeps, hill climbing and cross-country riding, as well as customized multiday tours covering long distances. Those without gear need not worry, as the center rents out quality mountain bikes and protective gear for adults and children.
---
Trekking stunning scenery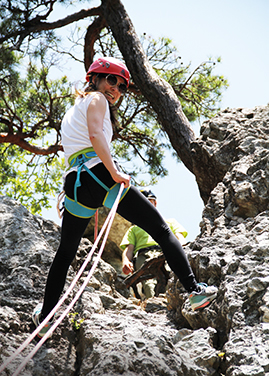 Given Hakuba's lush forests and majestic mountain ranges, the area's abundance in scenic hiking trails should come as no surprise.

The course through Nezuko Forest is one such trail. Taking approximately 90 minutes to complete, the trail winds through tall beech and oak trees, in addition to nezuko evergreen trees from which the forest derives its name. Trekkers can immerse themselves in the forest's ambiance as they bask in the sunlight shimmering through the trees, smell the greenery's refreshing aromas and listen to the sounds of chirping birds and flowing rivers. At the Iwatake Mountain Resort, visitors can join daily tours led by guides who highlight some of the forest's unique features.

Another popular trekking destination is the Happo-one trail. This trail takes around three to four hours to complete and leads to the spectacular Happoike pond in the northern alps. The pond is situated high above the Hakuba Valley, and on a clear day the tall peaks of the mountains are reflected in the pond's pristine surface. For this trail, the Evergreen Outdoor Center offers half- and full-day tours that introduce hikers to seasonal Japanese wildflowers and native wildlife.

Trekkers also owe it to themselves to visit the Tsugaike Nature Park. Located at the foot of the northern alps, the park comprises over 100 hectares of untouched wilderness with trails taking hikers through various landscapes, including marshes containing colorful alpine flora. The full 5.5-kilometer trail leads to an observation platform featuring magnificent views of the Mount Shirouma Valley. The park's flora transform to reflect the season, and in autumn colorful shades of red, orange and yellow drape over the park's hills and marshes.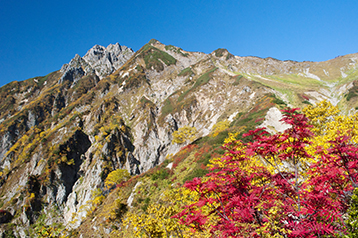 One of Hakuba's more challenging trekking courses is the trail up to Mount Goryu. Mount Goryu is one of Japan's most famous mountains and has dynamic and rugged features. Along the trail, trekkers will make their way through a flower park, in addition to vantage points with stunning views. While the trail all the way to the peak is challenging, there are also shorter trails for less experienced hikers to appreciate the mountain's splendor.
URL: http://vill.hakuba.nagano.jp/index2_summer_eng.html (Tourism Commission of Hakuba Village)
https://www.evergreen-hakuba.com/jp/mountain-biking/ (mountain biking)
https://www.evergreen-hakuba.com/jp/hiking/ (hiking and trekking)
http://www.hakuba-official.com (accommodation)