PARKS / NAGANO / OITA
PARKS OFFER PRESERVED VILLAS, ENVIRONMENTS
Sponsored by Ministry of the Environment
Rich in nature, Japan stretches from subarctic to subtropical climate zones, with monsoons bringing four distinct seasons and ample precipitation.

To preserve the wealth of nature, the Ministry of the Environment has designated 34 national parks in Japan.

Nikko National Park straddles Tochigi, Gunma and Fukushima prefectures. Mainly mountainous, the area has distinct scenery that changes each season and is particularly known for its colorful autumn foliage. The park also has many historically significant structures such as Toshogu shrine, a UNESCO World Heritage site, as well as the British Embassy Villa Memorial Park and Italian Embassy Villa Memorial Park. Visitors can enter both embassy villas for ¥300. The park's proximity to Tokyo makes it a popular outing, taking about two hours by train or car.

The deep forests of Towada-Hachimantai National Park, which spreads across Aomori, Akita and Iwate prefectures, preserves many of the region's flora and fauna and is home to rare animal species such as Japanese black salamanders and forest green tree frogs. A canoe tour of Lake Towada takes visitors to the cove of the National Park Special Protection Zone, which only canoes can reach. Lucky visitors may encounter Japanese serows, another rare animal breed. Onsen hot springs are also popular in the area.

Aso-Kuju National Park is known for one of the world's largest caldera sitting at the base of Mount Aso, a site also popular for trekking. Covering parts of Kumamoto and Oita prefectures, abundant groundwater makes the area suitable for agriculture and has become a vast land for domesticated cows and horses. To get an aerial view of Mount Aso and the caldera, visitors can paraglide with a pilot.

For more information on national parks, visit the website www.japan.travel/national-parks .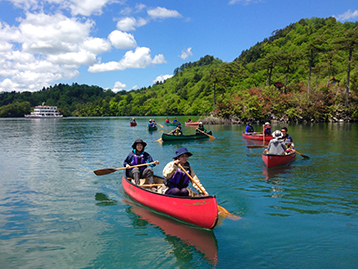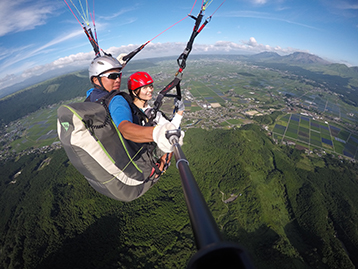 ---
NATURAL LOCALES HOLD REMNANTS OF THE PAST
Sponsored by Nagano Convention & Visitors Bureau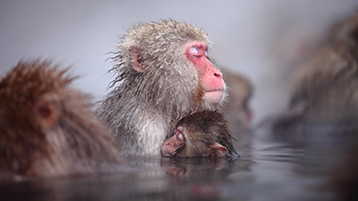 Nagano, the host city for the 1998 Winter Olympics, can be reached in a mere 90 minutes from Tokyo by shinkansen. The station is the front door to the ethereal world above clouds, snow monkeys, ski slopes covered in spectacular powdered snow, Matsumoto Castle and numerous other historical and natural sights.

Nagano is perhaps most known among foreign visitors for the world-famous snow monkeys that can often be seen bathing in the hot springs of the Jigokudani (Valley of Hell) Wild Monkey Park (http://www.snowmonkeyresorts.com/smr/nagano-city/).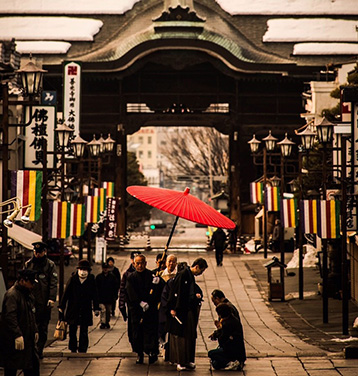 A must while staying in Nagano is a visit to Zenkoji temple. This national treasure is one of the largest wooden temples in Japan. While walking up the pilgrimage path leading to the temple, visitors should take some time to enjoy the Nakamise shopping street, which offers numerous souvenir shops, restaurants and cafes, as well as temple lodgings where guests can experience shōjin ryōri (Buddhist vegetarian cooking).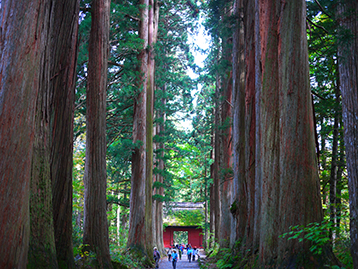 For those that enjoy walking among towering trees, a visit to Togakushi Shrine (http://www.go-nagano.net/tag/togakushi) is highly recommended. One can imagine a beautiful and majestic avenue of cedar trees full of history and shrines, as well as mysterious ninja that once roamed the area.
The city center provides visitors with numerous accommodation options, allowing them to spend a few days exploring this magnificent prefecture using the Nagano Pass (http://www.go-nagano.net/naganopass/en.php). After a long day of exploring the city and its nearby attractions, visitors should take advantage of a soak in one of the many natural hot springs.

For the website of Nagano Convention and Visitors Bureau, see http://en.nagano-cvb.or.jp .
---
CONTRASTIVE ALLURE: UKIYO-E AND SWORDS
Sponsored by Oita Prefecture Arts, Culture and Sports Promotion Foundation
Oita Prefecture (www.discover-oita.com/) is hosting key Rugby World Cup matches, but also wants fans to experience Japan's finest art and craftsmanship.

Exhibitions of woodblock prints, swords and other works are among attractions the Oita Prefectural Art Museum (www.opam.jp/page/information_en.html) in the city of Oita houses for the culturally curious.

"The Ukiyo-e Utagawa School — From Toyoharu to Kuniyoshi, Hiroshige" from Sept. 20 to Oct. 27 (www.opam.jp/en/exhibitions/detail/520) showcases a renowned line of print artists. Works range from scenes of daily life to a phantasmagoric skeleton and show how Western perspectives affected the genre.

Additionally, on Oct. 3 and 4 from 10 a.m. to 3 p.m., visitors who pay ¥500 will be outfitted in kimono they can wear for 90 minutes.

"Japanese Aesthetics: Swords and Metalworks" (www.opam.jp/en/exhibitions/detail/527) showcases finely honed blades wielded by samurai. However, the artisans who created them also crafted ornaments including vases, incense holders and even a decorative, shape-shifting coiled snake.

Shinsaku Munakata, museum curator, explained that during the feudal Edo Period (1603 to 1868) demand for swords was high. "But with the coming of the Meiji Era (1868 to 1912) warriors disappeared, as did demand for swords," he said; this forced craftsmen to apply their skills in new ways.

The museum, designed by renowned architect Shigeru Ban, boasts a spacious atrium perfect for displaying the Hita Gion Yamahoko, a towering traditional Oita shrine festival float from Oct. 1 to 23.

Other attractions, including traditional Oita crafts from Oct. 1 to 27 and "The Art of Wales Exhibition in Oita" from Sept. 27 to Oct. 27, round out the atrium displays.