HAKONE TOURISM
RELAX SURROUNDED BY ICONIC SIGHTS, MUSEUMS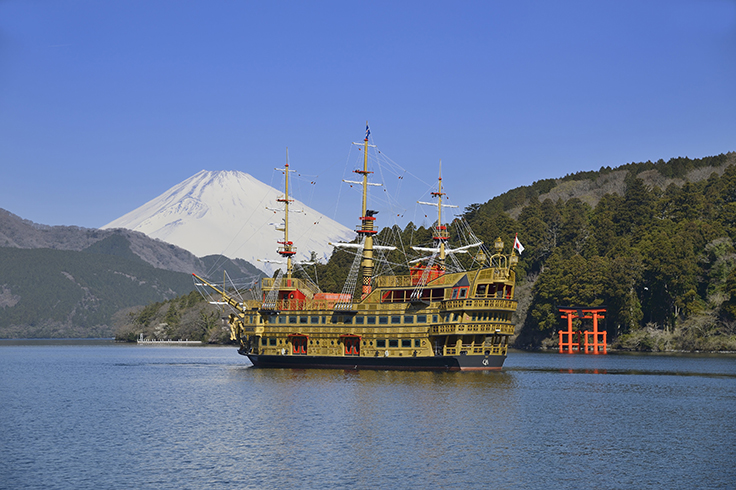 Easily accessible from Tokyo via the famous Romancecar limited express operated by Odakyu Electric Railway Co., Hakone in western Kanagawa Prefecture has long been a popular tourist destination thanks to various attractions and abundant natural resources.

An onsen hot spring resort town and former post station on the Tokaido coastal road linking Edo (present-day Tokyo) and Kyoto, Hakone has provided respite to weary travelers. Along with other sites, its many renowned museums are also an entertaining and educational experience for domestic and international visitors alike.

Hakone has been historically associated with Mount Fuji; the area now forms part of the Fuji-Hakone-Izu National Park. One famous example is the ukiyo-e "Hakone Kosuizu" ("Hakone: View of the Lake") from "The Fifty-Three Stations on the Tokaido" series by Utagawa Hiroshige (1797 to 1858), depicting Lake Ashi with Mount Fuji in the background.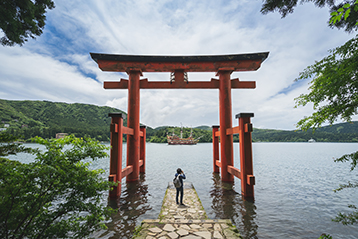 Hakone's geographical proximity to Mount Fuji offers a number of amazing vantage points from which to see the country's tallest mountain. One must-see vista is from a sailing ship on the caldera Lake Ashi. On the Hakone Sightseeing Cruise, visitors aboard the "pirate ship" that departs from Motohakone Port can encounter a stunning view of the mountain. This, along with the striking red Heiwa-no Torii of the historical Hakone Shrine, makes for unforgettable memories. For further information on the cruise, see https://www.hakone-kankosen.co.jp/foreign/en/ .

From the lakeshore, people might be able to observe sakasa Fuji, a reflection of the mountain upside down on the lake. Activities such as canoeing and kayaking can also be enjoyed here.

An excursion to Lake Ashi would not be complete without visiting Hakone Shrine. Dating back about 1,260 years, the sacred site is worshipped by many figures in Japanese history. Visitors are sure to be immersed in the solemn atmosphere around the shrine. The shrine is surrounded by greenery; its front approach is lined with cedar trees that are said to be 600 to 800 years old.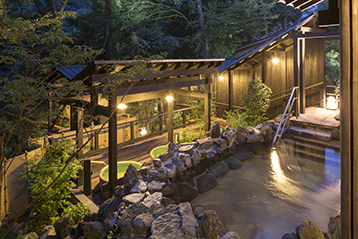 Hakone is also an ideal location to visit for those seeking relaxation and to refresh their body and mind. It is home to many hot spring sites around Mount Hakone.

Because various types of hot springs are available, Hakone has earned itself the nicknames "onsen theme park" and "department store of onsen." There are about 20 hot springs today, with the oldest one — Yumoto Onsen — dating back to the 700s.

Each onsen has unique characteristics, including varied scenery and surroundings. The springs can be found at various kinds of hotels and traditional ryokan (Japanese-style inns).

Those who want to try Hakone's high-quality hot springs more casually should seek out single-day facilities.

Hakone Yuryo (https://www.hakoneyuryo.jp/english/) offers public baths and private open-air baths and is easily accessed from Hakone-Yumoto Station on the Odakyu Line. A free shuttle bus also runs to and from the station.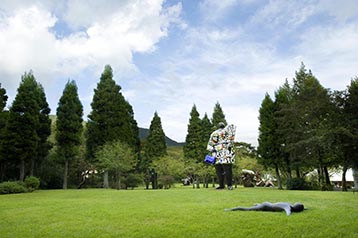 Another aspect of Hakone is that it hosts around 20 museums including some specializing in art and history.

One of the most acclaimed facilities is The Hakone Open-Air Museum (https://www.hakone-oam.or.jp/), which celebrated its 50th anniversary in August. Japan's first outdoor, open-air museum of art, about 120 masterpieces by contemporary sculptors call the museum's 70,000-square-meter garden home. The indoor Picasso Pavilion boasts 319 pieces by the world-renowned artist on rotation.
Other notable sites include the PolaMuseum of Art, (https://www.polamuseum.or.jp/english/) featuring the works of ClaudeMonet and Pierre Auguste Renoir; theVenetian Glass Museum (https://www.hakone-garasunomori.jp/entrance/english/);and The Little Prince Museum (https://www.tbs.co.jp/l-prince/en/) based on the famous novella by Antoine de Saint-Exupery.

To get to Hakone, the Odakyu Romancecar offers a fast and easy ride to Hakone-Yumoto Station from Shinjuku Station, taking about one hour and 20 minutes. The one-way total fare for the reserved-seat train is ¥2,280, including a ¥1,090 limited express surcharge.

For those planning to tour the area, Odakyu's Hakone Freepass is recommended. The pass offers unlimited rides (excluding the limited express) within a designated area, and includes bus and cable car travel. The pass also comes with perks and discounts for about 70 locations, including hot spring facilities.

A two-day pass costs ¥5,700 for adults (¥1,500 for children aged 6 to 11) from Shinjuku, and a three-day pass is ¥6,100 (¥1,750 for the aforementioned age groups). For further information, see https://www.odakyu.jp/english/passes/hakone/ .