CHERRY BLOSSOMS & BENTOS
FLEETING PASTIME HAS ENDURED FOR CENTURIES
No seasonal event is as eagerly anticipated in Japan as the blooming of sakura or cherry blossoms, and an essential part of sakura appreciation is hanami or cherry blossom-viewing. Hanami can be a lively party or a quiet, contemplative appreciation; either way, it's a celebration of spring. Although there are several types of flowering cherry trees, the variety that is considered to be the quintessential sakura is the Somei-Yoshino. This varietal was first cultivated and sold in Komagome in Edo (now part of Toshima Ward in Tokyo) in the 19th century and planted in great quantities nationwide after World War II. It's the blooming of this tree that's tracked as the "sakura front" every spring from mid-March in the south to late May in the north. Hanami usually takes place in the couple of weeks during which one can appreciate the Somei-Yoshino flowers.
---
The history of hanami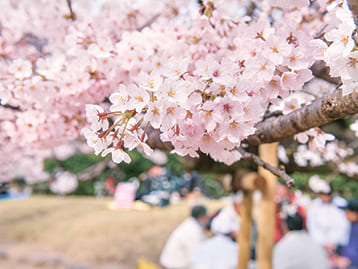 A deep appreciation of the changing seasons has been a part of Japanese life and a core belief of the Shinto religion for millennia. However, hanami as a specific event to appreciate flowers most likely started in the Nara Period (710 to 794), when members of the imperial court held gatherings to appreciate the flowering of ume (plum) trees, which had been brought over by envoys from China. The aristocrats would write poems called waka about the flowers while drinking sake. Later in the period, sakura, which were already regarded as sacred flowers in Shinto, also became popular as hanami subjects, and as time passed their popularity overtook that of the ume. The "Manyoshu," a poetry collection from the late eighth century, contains 42 poems about sakura and 120 about ume. However, the "Kokinwakashu," a similar poetry anthology from the early 10th century during the Heian Period (794 to 1185), has more than three times as many sakura poems as ume poems.
The samurai classes adopted the hanami custom in later periods when they took control of the country. In 1598 Toyotomi Hideyoshi, the leader of the nation at the time, held a legendary hanami party; he had 700 cherry trees planted on the grounds of Daigoji, a Buddhist temple in Kyoto, and invited 1,300 guests to the festivities.
Hanami became widely popular among urban residents during the Edo Period (1603 to 1868), a long period of peace when the "culture of the common people" thrived. The people of Edo (present-day Tokyo) took to hanami parties with great enthusiasm, and drinking, eating and making merry became an essential part of the experience. It was particularly "iki" or "cool" for people to catch a falling sakura petal in their sake cup and to imbibe it, drinking in the blessings of the gods. Modern hanami customs are directly descended from of the ones of the Edo Period.
---
Enjoying hanami
Hanami can take place at any time of the day. For relatively small crowds and quiet, people can try going on a weekday morning. If planning a weekend or nighttime hanami party in a popular spot, people need to get there hours in advance. (It used to be common for companies to send one of their junior employees to stake out a good spot early in the day for a hanami party in the evening.) Nighttime hanami can get rather raucous due to more people drinking alcohol, although for many people that's all part of the fun.
The weather may be quite chilly, so people should bring a waterproof picnic blanket or blue tarpaulin (available at ¥100 shops and home centers), and dress in warm layers. Hanami-goers should avoid sitting directly under a cherry tree or stomping around them, since the roots can get damaged. Breaking off branches, trying to climb the trees or scratching the bark are absolute no-nos. Although there may be rowdy parties nearby, especially at night, being considerate of one's hanami neighbors and keeping things reasonably quiet is key.
---
Hanami eating and drinking
A hanami bento can be as simple or as elaborate as one likes. People enjoy everything from beautiful traditional bentos to simple rice balls, sandwiches and snacks. It is possible to make your own, or purchase a variety of hanami food from several locations. For fancier, more traditional fare, people can try a department store food hall, a bento specialty shop or restaurants that offer special hanami bentos during the season. Convenience stores offer simpler fare.
Most hanami venues also have food stalls that sell bentos, small snacks such as hana dango (sweet rice dumplings on a skewer) and sakura mochi (rice cakes filled with adzuki bean paste and wrapped with salt-preserved cherry leaves). Hot and cold soft drinks and alcoholic beverages can be purchased from convenience stores and vending machines. For those looking to make a purchased bento seem more special, they can bring it wrapped in a furoshiki cloth, which can then double as a pretty tablecloth.
If the venue has trash receptacles, people should be sure to sort trash following the posted instructions. Many places have no trash cans, however, so people should be prepared to carry and dispose of any trash later.
Popular hanami spots in Tokyo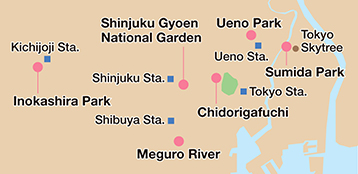 There are hundreds of cherry blossom-viewing venues around the country. Here are just a handful in Tokyo enjoyed by tourists and local residents alike.
Sumida Park: Stretching along the Sumida River, 640 sakura trees were originally planted by the eighth Tokugawa shogun, Yoshimune, in the 18th century. There's also a great view of Tokyo Skytree.
Ueno Park: Ueno Park used to be the grounds of Kan'eiji temple, and is also a historic sakura spot that was first planted in the early 17th century. Besides the Somei-Yoshino, it's also famous for its early flowering Kanzakura cherry trees.
Shinjuku Gyoen National Garden: This is a large, beautiful park that has around 1,100 cherry trees, including Somei-Yoshino and the late-blooming Ichiyo variety.
Chidorigafuchi: This is an ideal place to get a photo of Tokyo Tower as a backdrop for sakura.
Inokashira Park: In the suburban district of Kichijoji, this tranquil park has around 500 trees, about half of which surround a picturesque pond where it is possible to rent a swan-shaped boat.
Meguro River: Another famous waterside spot. The sakura branches reflected on the water are spectacular, especially when they are illuminated at night.
---
ARTFUL, CREATIVE BENTOS PROVIDE
A TASTE OF SPRING
The kouraku (picnic) bento is no less than compulsory for anyone dining alfresco and indulging in hanami (cherry blossom-viewing) during sakura (cherry blossom) season.
As with all bentos, great emphasis is placed on visual presentation and aesthetic arrangement of the food so as to whet the eater's appetite. Food items are inviting, colorful and speak of the dawning of spring.
Depachika, or department store basement food halls, typically offer a wide variety of festive hanami bentos to be bought en route to nearby hanami spots.
Below is a selection of depachika bentos available in Tokyo at stores near hanami hotspots such as Shinjuku Gyoen, Yoyogi and Ueno parks.
---
Haruurara bento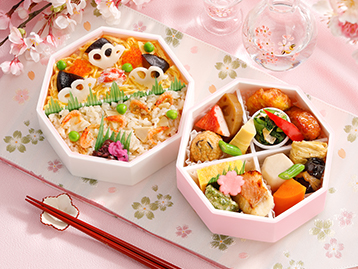 Price: ¥1,944 (tax included)
Manufacturer: Nadaman Chubow
Shop name: Isetan, Shinjuku
Description: The esteemed Nadaman restaurant and catering empire has had much time to perfect the art of the bento — the group dates back to the 1830s. Nadaman's elegant two-tiered hanami bento features high-quality, seasonal ingredients prepared under the tutelage of skilled chefs. Expect chirashizushi (scattered sushi), rice with bamboo shoots and a colorful assortment of bite-sized morsels, many simmered in dashi broth. Twenty per day through April 10.
---
Sakura Mille-feuille Sushi bento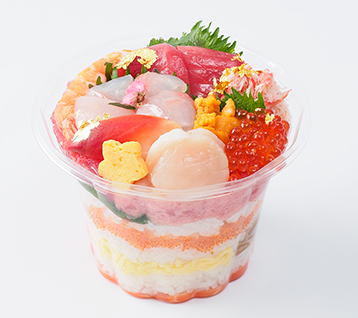 Price: ¥2,020 (tax included)
Manufacturer: Hokushinzushi
Shop name: Matsuzakaya Ueno
Description: The ingenuity of this cherry blossom bento, presented mille-feuille layered and parfait-like, is its convenience and portability. This bento is perfect for elbow-poking, overcrowded cherry blossom-viewing gatherings — why didn't anyone think of this before? But while the Sakura Mille-feuille bento is long on brilliance it's certainly not short on flavor. Twenty ingredients make up the spring-hued, multilayer bento, with gold leaf furikake (a condiment sprinkled over rice) providing a luxurious touch. Available until April 7.
---
Sakura Hors d'oeuvres bento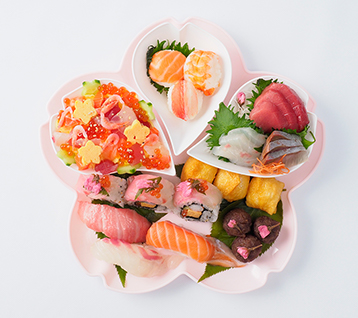 Price: ¥2,380 (tax included)
Manufacturer: Hokushinzushi
Shop name: Matsuzakaya Ueno
Description: Seafood shines in this exquisitely presented sakura-shaped bento sold only from March 20 to 22 and on March 28 and 29 to accommodate expected hanami party schedules. Artfully placed inside the spring-motif bento are sashimi, dainty temari-zushi (ball-shaped sushi), pint-sized inarizushi (sushi in a beanbag), sakura shrimp, and chirashizushi. The bento is completed with a delightful dessert that sees the marrying of pickled, salted sakura leaves, ume (plum) blossoms and anko adzuki bean paste.
---
Haru Temari Tsumeawase bento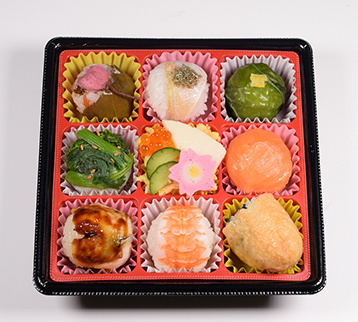 Price: ¥778 (tax included)
Manufacturer: Naniwa Koichian
Shop name: Tokyu Food Show at Tokyu Toyoko, Shibuya
Description: Temari ball-shaped sushi, both dainty and delicious, forms the backbone of this picnic bento. The pint-sized rice balls are the perfect finger food and their various garnishes speak both of Japan's simplicity and sense of festive fun. Of note is a miniature chirashizushi, the centerpiece of the lunchbox, featuring globes of briny ikura (salmon roe) and cherry blossom fish cake placed just so. Limited numbers available.
---
Ohanami Makunouchi bento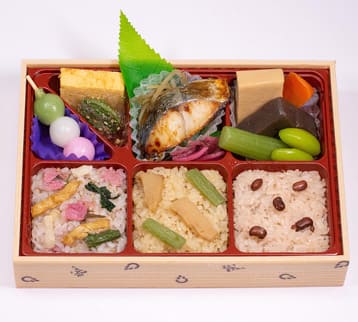 Price: ¥998 (tax included)
Manufacturer: Okowa Yonehachi
Shop name: Tokyu Food Show at Tokyu Toyoko, Shibuya
Description: Yonehachi is one of Japan's premier producers of okowa, an often-flavored sticky rice dish with a soft chew that typically features seasonal ingredients. It's no surprise then that this bento highlights three different versions, each speaking of new beginnings. Spring-forward ingredients include sawara (Spanish mackerel) and fuki (butterbur), with the tricolored dango (sweet rice dumplings on a skewer) dessert a reminder of hanami's joie de vivre and fun. Limited numbers available.