HAMAMATSUCHO & DAIMON TOURISM
AN IDYLLIC STROLL WHERE NEW AND OLD COLLIDE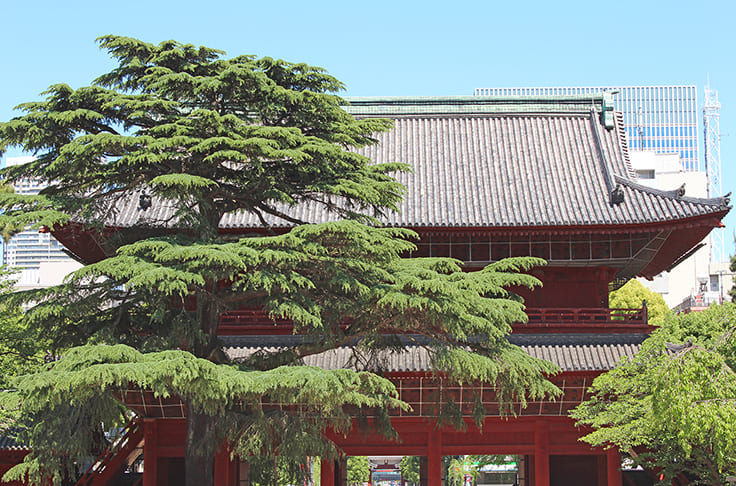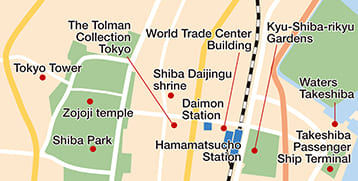 Tokyo's neighborhoods wear their personalities on their kimono sleeves.
A typical bucket list of places to visit includes upscale Ginza, famous for flagship stores and brand-name opulence. Harajuku, particularly Takeshita-dori street and its fashionable ura backstreets, are a beacon for trend-seeking tourists, teens and 20-somethings. Akihabara is a geek's paradise, with a reputation mostly built on tech and titillation. Asakusa, with its double whammy of Sensoji temple and nearby Tokyo Skytree, seems to epitomize that stereotypical juxtaposition often associated with Japan — that of the old and new.
Smaller in scale but no less impressive, the Hamamatsucho and Daimon areas offer a wealth of traditional sightseeing options. Approximately 15 to 20 minutes from Haneda Airport by monorail, this gateway district is a worthwhile excursion for first-time Tokyo tourists, repeat visitors and residents alike.
Visitors can consider an itinerary covering retro-chic Tokyo Tower to a gallery renowned for its expertise in contemporary Japanese prints to multiple eateries, prime parklands and waterways. All are easily doable in an afternoon.
---
Hamamatsucho Station to Tokyo Tower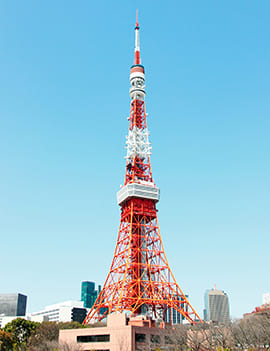 After arriving at Hamamatsucho Station, visitors should make a beeline for the retro Tokyo Tower, the city's red and white "Eiffel Tower" edifice built in 1958 and approximately 15 minutes away by foot. The second-tallest structure in Japan, the 333-meter tower is symbolic of the economic strides the country made after World War II. People can choose from the main deck that sits 150 meters up or the top observation deck at 250 meters to survey the surrounding area from on high before grabbing refreshments or souvenirs down below.
---
Tokyo Tower to Zojoji temple via Shiba Park
Roughly 250 meters away near Shiba Park lies Zojoji temple, one of Tokyo's most historically significant Buddhist temples. During the Edo Period (1603 to 1868), this was a family temple of the Tokugawa shogunate. People can visit the Tokugawa family mausoleum, take photos of the temple's imposing crimson gate or admire seasonal foliage such as cherry blossoms, gingkos or other majestic trees in Shiba Park. Some trees in the area are said to date back to the times of shogun Tokugawa Iemitsu (1604 to 1651).
URL: https://www.zojoji.or.jp/en/
http://shiba-italia-park.jp/shiba/ and http://www.tokyo-park.or.jp/park/format/index001.html
---
Shiba Park to Shiba Daijingu shrine
Less colorful than the vermillion-accented gate of Zojoji temple but no less historically important is the Shiba Daijingu shrine, a structure that dates back to the 11th century. A six-minute stroll from Shiba Park, it's here where people pay their respects to the religion's sun goddess, Amaterasu Omikami, a significant figure in Japanese mythology. The shrine was often depicted in woodblock prints. Relevant artworks can be viewed and purchased from a nearby gallery, The Tolman Collection Tokyo.
URL: http://www.shibadaijingu.com/
https://tolmantokyo.com/
---
Shiba Daijingu shrine to WTCB
People can also make the six-minute walk to the nearby World Trade Center Building (WTCB) to survey area surroundings. The 152-meter observatory provides ample views of Tokyo Bay to the east. From April, visitors can catch a glimpse of the newly opened Waters Takeshiba, a waterside urban development comprised of public spaces, restaurants, hotels, offices and a dock.
The Takeshiba Passenger Ship Terminal is good for a future trip, as it's the departure point for journeys to many of the Izu and Ogasawara islands, which are part of greater Tokyo.
URL: https://www.wtcbldg.co.jp/wtcb/facility/seaside/pdf/seaside_en.pdf
https://waters-takeshiba.jp/
http://www.tptc.co.jp/en/c_terminal/takeshiba
---
WTCB to Kyu-Shiba-rikyu Gardens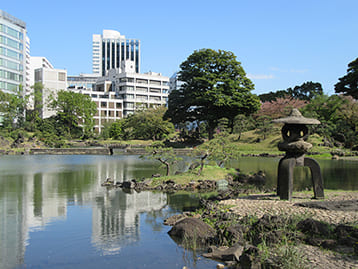 The meticulously landscaped Kyu-Shiba-rikyu Gardens, less than 300 meters away, makes for a contemplative sojourn. Ornamental shrubs, waterways populated by koi and stone-lined paths all speak of the garden's history as a famous feudal playground. Quieter and smaller than counterpart Hamarikyu Garden, Kyu-Shiba-rikyu Gardens is highly recommended for time-pressed visitors and fans of Japanese greenery.
URL: https://www.tokyo-park.or.jp/teien/en/kyu-shiba/index.html
---
Access
Hamamatsucho Station can be accessed by the Yamanote and Keihin Tohoku lines.
The Tokyo Monorail runs between Hamamatsucho and Haneda Airport.
Daimon Station is accessible via the Oedo and Asakusa subway lines.
Alternatively, the Chii Bus (a mini-community bus) allows people to experience the neighborhood as locals do. Tickets are ¥100 per segment, or ¥500 for a daily pass on weekends and holidays.