GOURMET / HOLIDAY ILLUMINATIONS
Christmas feasts and events offered at Tokyo and Osaka hotels
Sponsored content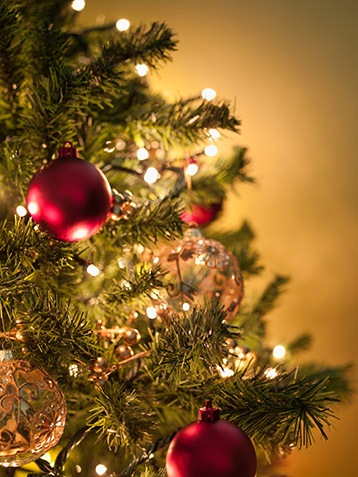 The time of garland-decked halls and streets lit up with mesmerizing illuminations has arrived. And with the coming of such a jovial occasion, it is only right to celebrate it with merriments special to the season. Whether it's waiting for St. Nick with the family, having a quiet night out with friends or just indulging in hearty meals, Tokyo and Osaka have a lot going on. With a countless array of dishes and decorations that reverberate the spirit of the season, join in on the bountiful feasts and events that these hotels will be unwrapping.
*Prices do not include tax and service charge unless otherwise noted.
---
Hotel Century Southern Tower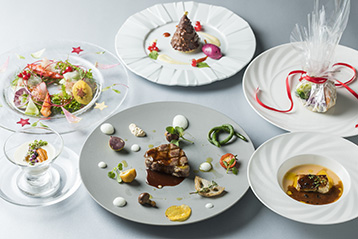 Christmas has come early — from Dec. 1, to be exact — at Southern Tower Dining at Shinjuku's Hotel Century Southern Tower, where tantalizing aromas from chef Atsushi Ishikawa's dishes are paired with spectacular panoramic views of the greater Tokyo-Shinjuku skyline.

Ishikawa's playful dinner menu (¥13,000 from Dec. 1 to 19 and ¥13,000/¥15,000 from Dec. 20 to 25, includes service charges and tax) is a Christmas Day degustation that takes inspiration from festive motifs, as well as French cuisine, plating and cooking techniques. He adapts it to Japan using local ingredients, as well as those from areas bouncing back from natural disasters.

The chef offers lobster, seasonal seafood and a salad created from locally grown hydroponic vegetables in the form of a Christmas wreath, before diners are literally gifted with a present of bountiful seafood from Onagawa in Miyagi Prefecture. Kumamoto Prefecture's wagyu fillet, the lean beef bursting with umami, is a savory foil to an indulgent chestnut mousse and Christmas tree concoction.
---
Cerulean Tower Tokyu Hotel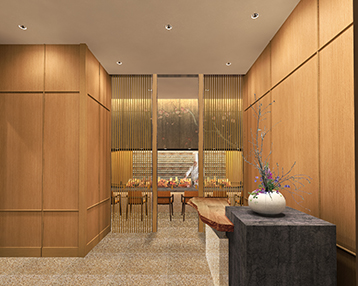 On Nov. 26, Cerulean Tower Tokyu Hotel unveiled not one, but two new restaurants and a cigar bar perfectly suitable for gatherings of families or clients on the second floor at its Shibuya location, inviting guests to savor exceptional food and a good time in a ritzier setting of this iconic Tokyo district.

Sushi Ito Ikkan, the first of the restaurants, seats 15 — nine at the counter and six in a private room. Guests can also treat their palates to rare and prized sake. Lunch starts at ¥6,000 and dinner at ¥12,000.

At Teppanyaki Sakura, guests can dedicate their five senses to enjoying teppanyaki (iron grill cooking), as six of the 16 seats are in a private chef's room, promising an immersive experience. Lunch options start at ¥3,200, with dinner from ¥11,000. Both are open from 11:30 a.m. to 3 p.m. and 5:30 to 11 p.m.

Cigar bar R261 Cigar & Rock is open beyond mealtimes, allowing patrons to meander into the second-floor space from 4 p.m. until 1 a.m.
---
Grand Hyatt Tokyo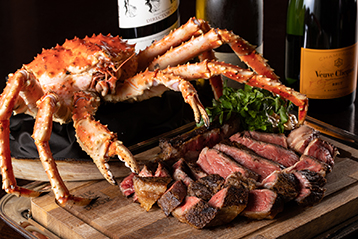 Grand Hyatt Tokyo in Roppongi is ready to welcome winter with seasonal luxuries from around the country.

From Dec. 15 to Jan. 5, The Oak Door offers an exclusive party plan limited to one lunch and dinner group per day and held in the restaurant's private dining room. The plan's main dish features surf and turf comprising the restaurant's signature Tomahawk steak; F1 wagyu rib-eye steak on the bone, weighing up to 1.6 kg; and an entire Taraba king crab. A magnum bottle of choice Champagne, white or red wine and three other courses are also served. The plan is available for ¥150,000 (including room charge) and is ideal for parties of six to eight.

On the sweeter side of things, the hotel's main bar and jazz lounge, Maduro, will serve three seasonal cocktails from December to January. Maduro's talented mixologists will use freshly pureed Sky Berry, a strawberry variation from Tochigi Prefecture, to whip up sangrias, Leonardos made with Champagne and mojitos priced from ¥2,300.
---
Hyatt Centric Ginza Tokyo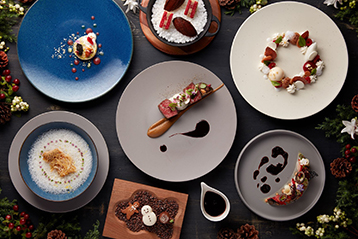 To indulge in a multicourse feast, imbibe on seasonal cocktails or take in specially curated illuminations and a neon-art tree — the Hyatt Centric Ginza Tokyo has Christmas 2019 covered.

The Christmas Special Course menu served from Dec. 21 to 25 (¥15,000 to ¥18,000 depending on menu items and reservation date) at in-house restaurant NAMIKI667 shows chef Toru Hirakawa's commitment to stellar produce and creating exceptional dining experiences. Featuring Hokkaido crab, roasted Akigawa wagyu sirloin from Tokyo and a show-stopping finale of a Mont Blanc Christmas wreath served with raspberry paste and a foam of rum, Hirakawa's Christmas dinner menu is both considered and striking.

Art collective Neon Yup Torrid have created an illuminated neon Christmas tree at the hotel, on display from Nov. 29 to Dec. 25. Guests are invited to the NAMIKI667 Bar & Lounge for regular winter cocktails through Jan. 31, as well as the neon-art inspired Stardust Martini (¥1,500) from Dec. 18 to 25.
Tel: 03-6837-1300 (Namiki667)
Address: 3F 6-6-7 Ginza, Chuo-ku, Tokyo
URL: namiki667.com
---
The Peninsula Tokyo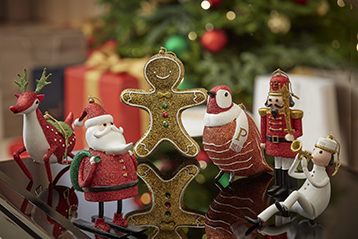 In the spirit of the festive season, The Peninsula Tokyo hopes to inspire guests and visitors to pass on a bit of goodwill to others while indulging in delightful holiday treats.

Christmas ornaments such as gingerbread men and Santa Claus will be available for purchase, with ¥500 from each donated to the Japan School Library Association.

Guests who drop in for Festive Afternoon Tea (11:30 a.m. to 9 p.m. at ¥6,500) at The Lobby from Nov. 1 to Dec. 25 will also see ¥500 of each purchase donated to charity.

In its own act of kindness, the hotel will serve complimentary hot chocolate, tea, spiced wine and roasted chestnuts to guests and passersby from Dec. 23 to 25 between 6 and 7 p.m. every evening at The Peninsula Cafe at Marunouchi Naka-dori.

Holiday-themed desserts are on offer at the Peninsula Boutique and hampers are available for those who want to bring the party home, including a festive deli set that comes with a half-bottle of Peninsula Champagne.
---
Royal Park Hotel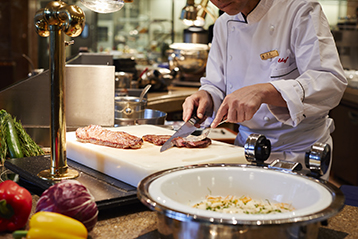 The Royal Park Hotel has Christmas sorted with festive felicitations and epicurean celebrations taking place from Dec. 21 to 25.

Hotel restaurant Chef's Dining Symphony has planned Christmas buffets for lunch (¥4,000) and dinner (¥7,000), where traditional fare such as roast chicken and sliced turkey is served alongside sides such as herb and shrimp risotto with a hint of lemon and Parmigiano-Reggiano pasta.

Santa Claus himself will also make an appearance at the restaurant, with a Meet Santa event held from Dec. 23 to 25 on the first floor at 1:30 p.m., and on the second floor with sessions at 5 and 7:30 p.m.

Christmas isn't Christmas without song, however, and from Dec. 23 to 25 the hotel halls will be filled with uplifting tunes courtesy of gospel group Cocoro*co. Shows are scheduled for 1, 5 and 7 p.m., with the choral group performing in front of the lobby's Christmas tree.
Tel: 03-5641-3600(restaurant reservation)
Address: 2-1-1 Nihonbashi Kakigara-cho, Chuo-ku, Tokyo
URL: https://www.rph.co.jp/
---
Shangri-La Hotel, Tokyo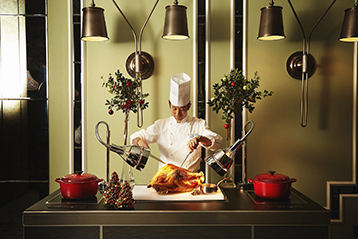 With the holiday season just around the corner, restaurant Piacere at Shangri-La Hotel, Tokyo is preparing a Christmas feast with delicious contemporary Italian cuisine for guests to share with loved ones.

Available from Dec. 21 to 25, the Natale Dinner course features delectable dishes prepared with high-quality seasonal ingredients, such as Raschera cheese ravioli with truffles and grilled wagyu beef. Courses include either eight (¥22,000), six (¥18,000), or five (¥15,000, not available on Dec. 24) dishes that can be savored from 5:30 or 8:30 p.m.

On weekends, guests can celebrate the holiday spirit with Piacere's Christmas Weekend Brunch (¥10,000). Available from Dec. 14 to 15 and 21 to 22 between noon and 2:30 p.m., the lunch treats guests to over 10 varieties of antipasto elegantly lined up on a buffet board. Other savory highlights include turkey roast, truffle gnocchi and sea urchin risotto served directly by the chef, as well as main dishes comprising wagyu hamburg steak and red crab eggs Benedict.
---
The Strings by InterContinental Tokyo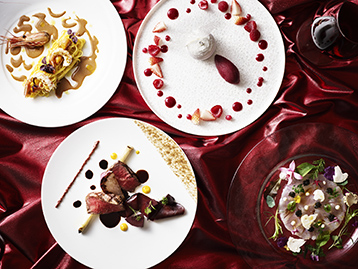 Tokyo boasts no shortage of fine dining establishments; the city is regularly touted as one of the world's leading dining destinations. Four restaurants — Italian grill, Melodia; Chinese restaurant, China Shadow; Kazane, specializing in teppanyaki (iron grill cooking); and Rhythmos cafe and bar — slated to open on Dec. 11 at The Strings by InterContinental Tokyo, right next to Shinagawa Station, are poised to both define and capture the city's culinary spirit. From Dec. 20 to 25, Executive Chef Olivier Rodriguez is presenting a creative Christmas dinner menu (¥15,000), Natale, at Melodia. Diners are invited to feast on celebratory fare such as handmade tagliolini pasta with plenty of botan-ebi shrimp and briny uni (sea urchin), and grilled prime black wagyu.

China Shadow, meanwhile, presents an authentic Chinese cuisine feast (¥16,000) with contemporary flair in dishes that allow the ingredients to shine. Diners can take advantage of the restaurant's window-side setting and sparkling night view.
---
The St. Regis Osaka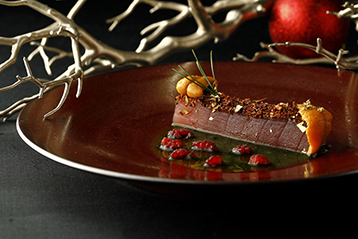 This December, savor the holiday spirit with various, exquisite courses at The St. Regis Osaka.

At restaurant La Veduta, guests can relish the wonderful flavors of northern Italian Christmas cuisine. The Christmas dinner course (¥16,800 to ¥30,000), served from Dec. 20 to 25, features rossini-style polenta along with a rich combination of truffles, foie gras and Japanese beef topped in a Barolo wine sauce. The course is available between 5:30 and 9:30 p.m. from Dec. 20 to 22 and in two-hour time slots — 5:30 to 7:30 p.m. and 8 to 10 p.m. — from Dec. 23 to 25.

For a unique Japanese take on Christmas dining, look no further than teppanyaki (iron grill cooking) restaurant WAJO. The Christmas dinner course (¥25,000 to ¥50,000; Dec. 20 to 22) includes miso-flavored beef cheeks with mashed potatoes and lily roots, and blue homard (lobster) with a blend of red sauce Americaine and white and sweet Saikyo miso, creating a fusion of Japanese taste and Christmas colors.
---
Enjoy holiday illuminations in Tokyo