AICHI
FROM SAKE TO TEXTILES, RICH PRACTICES LIVE ON
Sponsored by Aichi Prefecture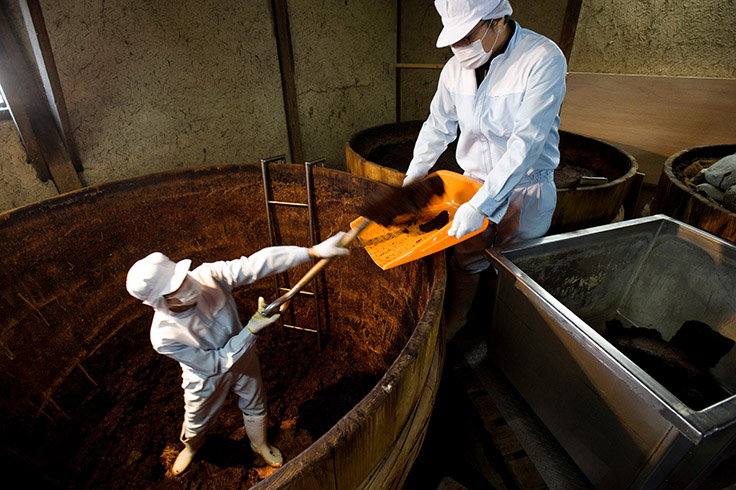 Miso is a staple of the Japanese kitchen, yet the variety in the Hatcho district of the city of Okazaki is not just any ordinary miso. This savory yet sweet-smelling, red-brown miso has long been a highlight of Aichi Prefecture's exquisite food culture.

Hatcho miso has been produced in Aichi's Mikawa region for over 600 years. Today there are only two companies making it, one of which is Maruya Hatcho Miso Co., Japan's oldest producer, which has been around since 1337.

According to company President Nobutaro Asai, credit for the miso producer's longevity goes to a simple, centuries-old recipe and production method involving the combination of a soybean mash dusted with kōji (malted rice) with salt and water. The mixture is left to ferment for two years.

Overseas chefs have started using the company's exported Hatcho miso as a condiment for additional flair to conventional dishes, while also being advocated for its health benefits of low salt content, said Asai.

Fermented produce is an Aichi specialty — thus it comes to no surprise that the central Japan prefecture is also known for its fine sake, particularly in the ancient Chita region.

There it dates back over 300 years and once was home to some 200 breweries. Six remain today, one of them being Sawada-Shuzo Co., which has operated in the city of Tokoname since 1848.

While makers increasingly utilize technologies to improve efficiency and profits, Sawada sticks to the process that has served it so well over the years, said Hidetoshi Sawada, the brewery's sixth-generation owner. "To do otherwise can affect the final product, jeopardizing its complexity and mellowness," he added.

The brewery continues to employ time-honored techniques, tapping into spring water from several kilometers away as it has for over 170 years, and employing traditional utensils. When steaming the rice, for example, it shuns longer-lasting steel barrels in favor of wooden ones that add to the flavor of its rich and mellow Hakurou sake brand.

That the company is a seven-time champion of the National Research Institute of Brewing's annual sake competition suggests their approach is working.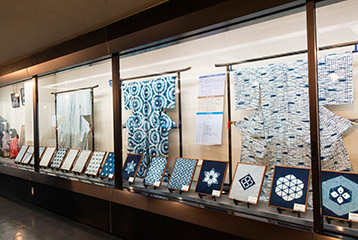 In Aichi's capital, Nagoya, traditional industries include a centuries-old tie-dyeing tradition in the Arimatsu district. Once a town in its own right, Arimatsu has thrived for over 400 years through its shibori (textile dyeing) industry, which incorporates numerous techniques to manipulate fabric to create some 100 designs.

Even today, old fabric merchant houses line its time-warp main street, a historical trade route known as the Tokaido, which connected Tokyo with Kyoto.

Shibori dates back to at least the eighth century, but it wasn't until the early 1600s that entrepreneurial Arimatsu villagers started to make tie-dyed textiles as souvenirs for travelers passing through.