CRAFTS Ⅱ
JAPANESE NEW YEAR'S DECKED WITH SYMBOLIC ARTISANSHIP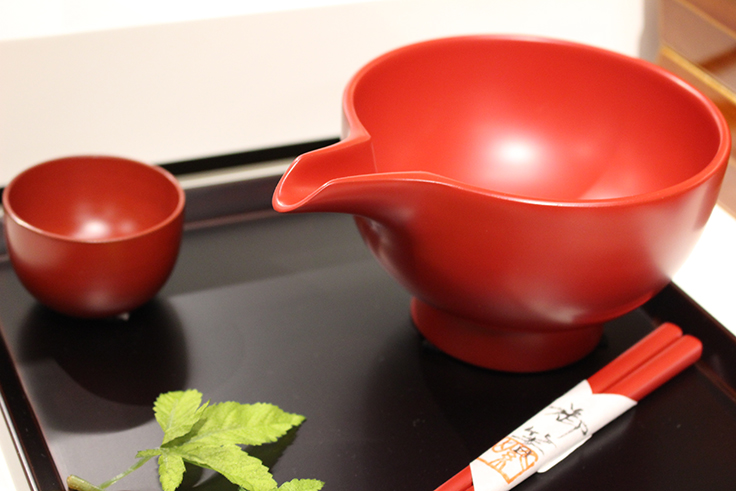 The New Year's holidays are among the most important in Japan. It is a time when far-flung family members gather to participate in time-honored rituals and share special meals. To help create an atmosphere of celebration, people also decorate their homes with and use objects and crafts that have particular significance to the season. Many of these oshōgatsu no fūbutsu (New Year's items and customs) can only be seen and experienced during the holiday period.

Food brings families together, and this is even more true at New Year's. While local traditions vary, some of the most common celebratory dishes are toshikoshi soba, buckwheat noodles "for bringing in the new year"; ozōni, a soup featuring glutinous rice cakes; and of course, osechi ryōri, a collection of intricate delicacies served in elegant stacked boxes.

While care is naturally taken in preparing or purchasing dishes for the holiday, many families also take the opportunity to bring out particularly fine or colorful tableware. These can include glossy soup bowls made of urushi lacquer in styles such as Hidehira-nuri from Iwate Prefecture or Wajima-nuri from Ishikawa Prefecture. Lacquered osechi boxes are particularly impressive, though perhaps not as rare as ones made from the famous blue-and-white ceramic of the city of Seto in Aichi Prefecture. There are also chopstick rests in playful shape like fans and gourds, glass and ceramic sake sets and any number of lacquered eating utensils, including chopsticks, trays and cups.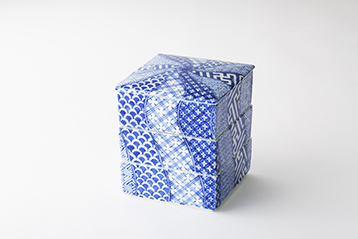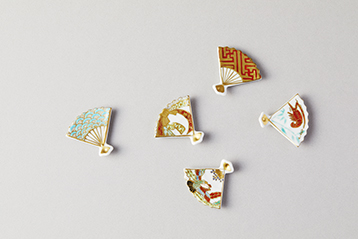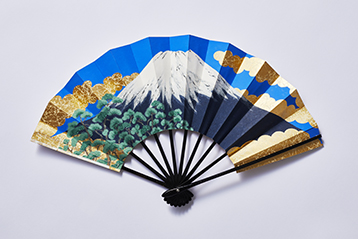 Yet one cannot spend all the time eating; plenty of other activities and rituals are enlivened with decorative oshōgatsu no fūbutsu. Such items often include an image of the animal for the coming year as part of the traditional 12-year Chinese astrological cycle. In 2020 this is the mouse, so expect to see recurring themes featuring the big-eared, furry creatures everywhere come December and January. Craftsmen in Tokyo and nearby Saitama Prefecture will make Edo Kimekomi dolls in many shapes, including mice, and the rodents will certainly be painted onto Kyo-uchiwa fans from Kyoto Prefecture. Other traditional New Year's motifs include Mount Fuji, kadomatsu arrangements made with pine and bamboo, kagami mochi decorations with tangerines placed on top of glutinous rice cakes, and shimenawa wreaths that are usually made of rice straw with red and white decorative paper.

New Year's is also a time to acknowledge the importance of relationships. This can be done by paying a special visit to relatives, friends and neighbors, possibly dressed in one's best silk kimono to mark the occasion. Nowadays, with loved ones spread all around the country or even the world, most people send New Year's postcards called nengajō, which the post office will save to be delivered all at once on Jan 1.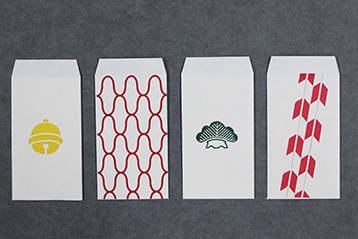 Children, of course, will not be left out of the fun. They eagerly await being handed small paper envelopes containing otoshidama — a New Year's gift of cash, which might be spent that very day at one of the many holiday sales stores put on. Nengajō cards and otoshidama envelopes come in countless varieties, but there may be nothing so elegant as those made with hand-dyed washi traditional Japanese paper, such as in the Etchu style from Toyama Prefecture.

All of these items and more can be seen at "Shinshun: Eto-zukushi Ten," a special exhibition of New Year's crafts being held at Aoyama Square, a gallery and store specializing in the finest of Japanese craftwork and located in Tokyo's Minato Ward. In addition to being an opportunity to peruse or purchase items related to New Year's celebrations, some of the artisans involved will be on hand to discuss their work and answer questions. Treasured items that have been broken or damaged, such as chipped ceramic plates or cracked lacquer bowls, can be brought in for repairs. The exhibition will run from Dec. 13 to 19.

In addition to the New Year's exhibition, the gallery at Aoyama Square features a diverse collection of more than 6,000 items lovingly crafted by artisans in renowned production centers from Hokkaido in the north to Okinawa in the south. Items can be purchased in-store, while people who wish to explore Japanese crafts more deeply can attend weekly workshops at which experts demonstrate their skills and provide opportunities for participants to try out certain techniques. Workshops are held on textiles, bamboo-working, dolls, washi, lacquerware and many other art forms. For more information, please check the gallery website.

URL: https://kougeihin.jp/