NISEKO TOURISM
SKI AREA BOASTS VARIOUS SUMMER ACTIVITIES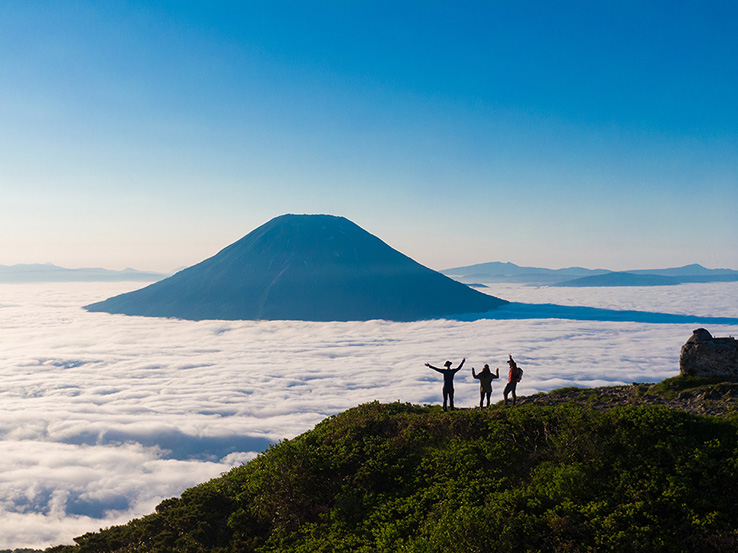 Niseko is known worldwide for its bountiful powder, but when the summer sun melts the snow away, it uncovers a completely different landscape, with all kinds of new opportunities for adventure and family fun.
The mountains of Hokkaido are just as stunning covered in verdant green as they are swathed in white. Summer temperatures in the area are wonderfully mild, perfect for outdoor physical activity. Daily highs do not get much above 25 degrees and evenings cool down to a refreshing 15 degrees or so. The days can be a bit humid, but nothing compared with the lowland areas in more southern parts of Japan.
This creates a comfortable environment for all the outdoor activities the area has to offer, an extensive list that includes but is not limited to hiking, cycling, trail running, rafting, swimming, horseback riding and hot-air ballooning.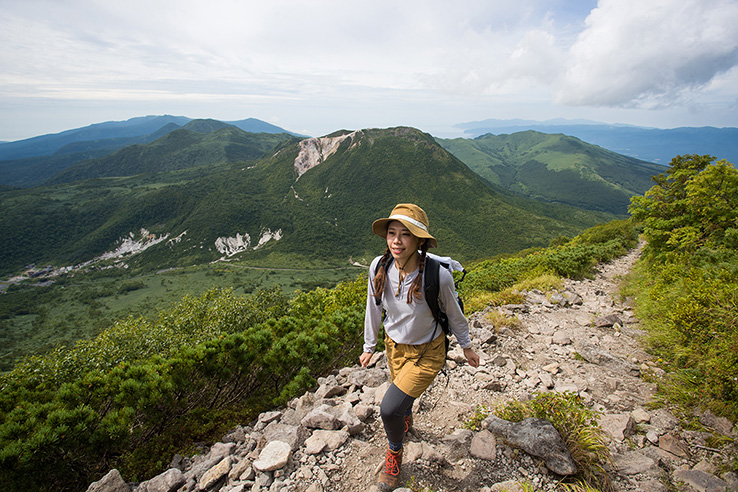 Of course, anything that can be skied can be hiked. Mount Annupuri, home to the four Niseko United ski resorts, is 1,308 meters tall, which is roughly a kilometer above the village at the base of the lifts. There are two gondolas that can shorten the climb. Un-fortunately the Hirafu Summer Gondola is closed this year, but visitors can still take the Annupuri Gondola, which takes people up 1,000 meters to enjoy the magnificent views. The gondola is open mainly on weekends so be sure to check the opening days. The biggest peak in the area is the 1,898-meter Mount Yotei, which sits in solitary splendor across the valley from the ski resorts. Climbing Yotei-san is a serious affair, taking around eight or nine hours round-trip. In addition to these challenging trails, there are many easier hiking options in the area, including smaller summits like Mount Iwaonupuri or mellow nature walks such as around Lake Hangetsu.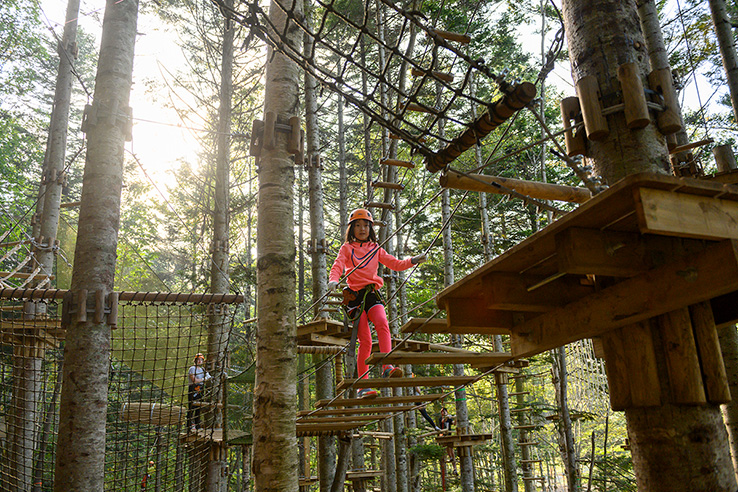 In addition to mountains, this year a new form of trekking is available in Niseko. The Hanazono resort has constructed a grand "tree-trekking" attraction using ladders, bridges, ziplines and ropes attached directly onto the trees. This allows adventurers to get in touch with their primate roots by navigating various routes without ever setting foot on the ground. Courses range from 110 to 243 meters long and come in two difficulty levels. Aspiring Tarzans age 6 and older are eligible to test their balance and dexterity.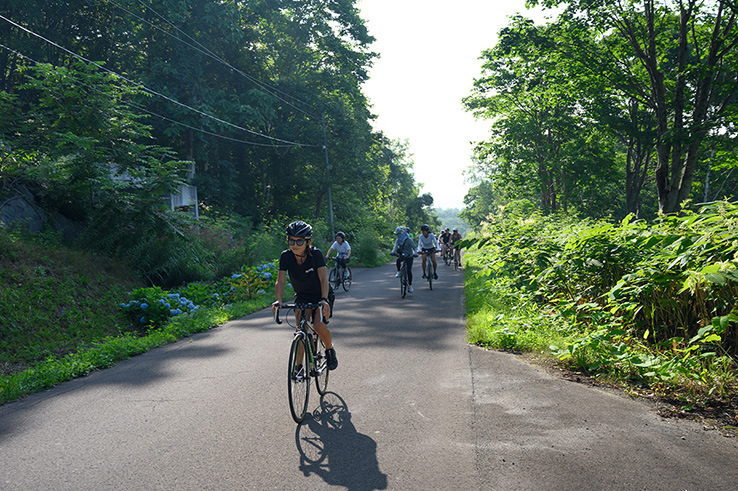 For those that prefer higher-paced experiences, cycling is a great way to see the area. The Kutchan Tourism Association has mapped out half a dozen rides suited for all levels of experience and ambition. With notable spots like cafes, hot springs and scenic points clearly marked, these maps can be used for anything from a quick jaunt to explore the town to a 99-kilometer round-trip expedition all the way out to the coast.
Activities aimed at families with children can combine outdoor fun with learning. The EdVenture Niseko summer camps provide all-day programs that have kids exploring, interacting with and learning about the local environment through arts and crafts, fruit-picking, rafting, singing and dancing, and of course s'mores by the campfire. There are kids-only EdVenture camps as well as programs parents can join to make it a family affair. The Niseko branch of the Hokkaido International School offers summer programs that are more learning-orientated, but with an emphasis on outdoor and creative activities. All of these camps and programs are conducted in English, though native Japanese speakers are also on staff.
Once the day's activities are done, it is time to rest and recharge. A hearty meal is a necessity, but the full Hokkaido experience would not be complete without a soak in one of the area's natural hot springs. Most larger hotels have onsen (hot spring) facilities the general public can use for a small fee. A few of the more luxurious resorts even offer rooms with their own private hot springs. Yet having a hot spring bath to oneself does not require an expensive hotel reservation. Many hot springs operators have a few private baths in addition to their shared facilities, which are typically segregated by sex. These can be rented for a reasonable hourly rate by couples, families and other groups looking to avoid the crowds.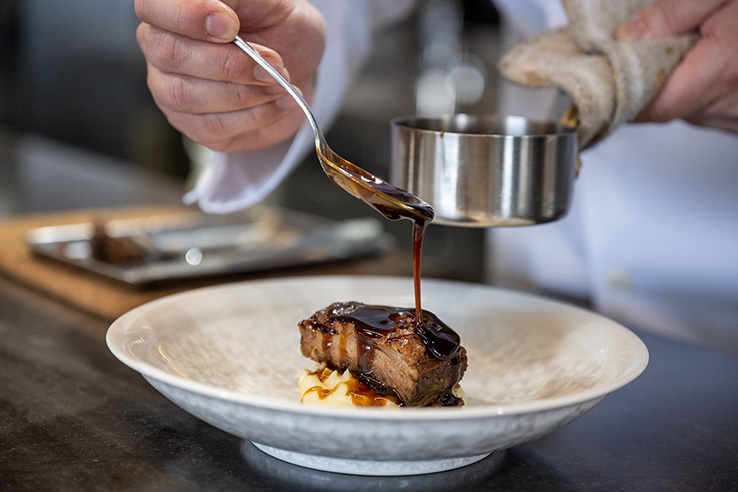 Niseko offers a diverse selection of dining options, from elegant Michelin-starred establishments to more casual restaurants. It can be hard to pick from this rich treasure trove, but one way to narrow down the choices is to settle on one of the two basics of Hokkaido cuisine: surf or turf. It can be hard to recall while surrounded by the area's mountains and forests, but Niseko is less than an hour's drive from the sea. Sushi and other seafood dishes are likely to be as fresh here as can be found anywhere. On land, the wide pastures of Hokkaido nurture beef cattle with a nationwide reputation. Whether eaten as a prime steak or hearty hamburger, local beef is not to be missed. Hokkaido's cows also produce some of the finest dairy products in Japan, which can be enjoyed as artisanal cheeses or in a plethora of desserts from ice cream to pudding to cheesecake. Another chance to enjoy the area's delicious cuisine is the Niseko Autumn Food Festival that is scheduled for Sept. 16 to 19 at Niseko Village. About a dozen restaurants come together to offer a variety of global cuisines.
The sister restaurants Kamimura and Kitchen offer some of the area's finest dining experiences, the former as an elegant French restaurant and the latter as a more casual dining lounge. After learning under an acclaimed chef in Sydney, Australia, for several years, chef Yuichi Kamimura moved back to his home prefecture to start his eponymous restaurant. The tasting menu here is a tour de force of culinary marvels, while the more laid-back atmosphere of Kitchen serves up family-style dishes with the same emphasis on creativity and fresh local ingredients.
The restaurant selections in the newly opened Park Hyatt Niseko Hanazono alone are almost overwhelming — Chinese, French, sushi, teppanyaki (iron-grill cooking), Italian and robata (country-style grill), not to mention lounges, a deli and a generous room service menu. New restaurants are opening all the time in Niseko as the area develops into one of the world's premier ski destinations. With almost anything a hungry person can crave already available, it will be exciting to see what dishes and experiences the best chefs from around Japan, and increasingly around the world, will think up next to attract their share of a hungry clientele.
While Japan's coronavirus vaccination campaign is gaining steam, it is still in the early stages and most people will still be unvaccinated this summer. Nevertheless, this will be the second summer the area's resorts, restaurants and attractions have dealt with the pandemic, and they are well-practiced at keeping risk to a minimum while still providing the excitement, fun, rest and relaxation their customers demand. Luckily, the risk of infection is extremely low in socially distanced outdoor settings. Standing atop a panoramic mountaintop, lounging on a riverbank with a fishing pole in hand, or soaking in a remote hot spring — it is difficult to think of more pleasurable ways to avoid the "Three Cs" than those available in Niseko.
Summertime in Niseko is when the land wakes up from its long winter slumber. The flora and fauna that lay dormant while the powder-hounds dominated the landscape grow fast and strong, nourished by the runoff from those bountiful snows and energized by sunlight from long northern days. Berries ripen plump and sweet on the branch and fish jump from clear mountain lakes.
As the world slowly but surely pulls itself out of the pandemic, families who have been cooped up inside with their recreational activities restricted for these long months need a place where kids can run free and adults can share special moments. For those willing to come out and find it, Niseko's natural beauty is fully open, both this year and every year to come.