CRAFTS
TRADITION LIVES ON IN ENDURING WOODCRAFTS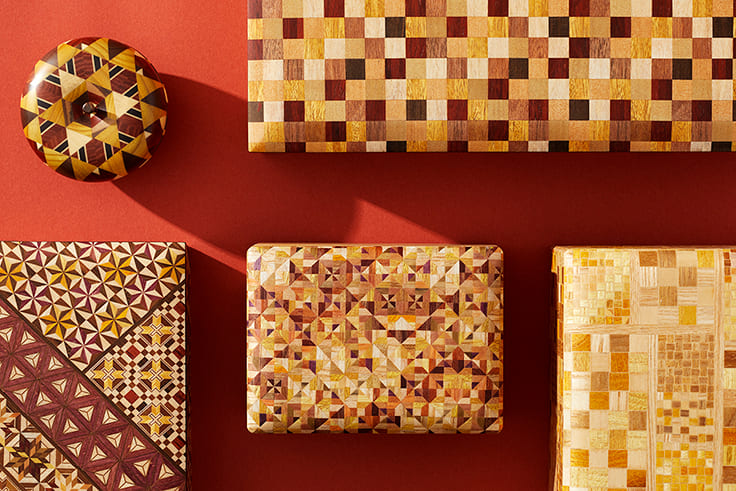 Hakone, boasting close proximity to Tokyo and plenty of hot springs, has long been a playground for the capital city's residents. The Kanagawa Prefecture area's beauty is one of its major draws. Swathes of forest blanket its mountains. These woodlands are made up of diverse trees such as cedars, Japanese zelkova and dogwood, among other species.
The scenic district was also a key rest stop during the Edo Period (1603 to 1868) along the old Tokaido Highway, a thoroughfare that linked the current-day capital (formerly known as Edo) to Kyoto.
Route 1, the present-day incarnation of the old coastal road, is the site of the annual two-day Tokyo-Hakone collegiate ekiden relay race. University teams compete against each other in running to and from Tokyo during the marathon relay, their efforts harking back to runners who once delivered messages between Edo and other locations.
An unusual feature of the Hakone Ekiden is the distinctive wooden trophy created by master woodworker Katsuhiro Kanazashi that is presented to the first-day winning team.
Kanazashi creates the awards using Hakone yosegi-zaiku (marquetry) woodworking techniques in which natural pieces of wood of various colors and textures are used to form distinctive mosaics and patterns. The geometric patterns found in the woodwork — often complex, sometimes simple but always intricate — are central to its appeal.
The decorative woodcraft of Hakone yosegi-zaiku is said to have originated in Hakone's Hatajuku district during the latter half of the Edo Period. Hatajuku is still a hub for Hakone yosegi-zaiku today, with many woodwork artists continuing the traditions of their forebears, but also experimenting with new product lines and unique styles.
One constant and enduring feature of Hakone yosegi-zaiku is its warm yet gentle color palette that references the different species of trees used during production. Designs are also expected to be symmetrical and well-balanced. This one-of-a-kind craft has gained in popularity both locally and abroad and it was designated a traditional craft by the government in 1984.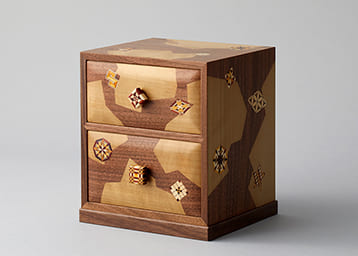 Best-selling pieces include trays, household items, drink coasters and bowls, while accessories and stationery items are said to be gaining in popularity.
Artists such as Kanazashi spend years honing their skills. Creating the works is a laborious process with wood cutting, binding and carving of the individual pieces sometimes taking months.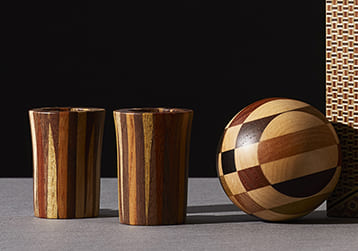 One yosegi-zaiku technique, muku-tsukuri, sees strips of different shades of timbers arranged together as small geometric units akin to patterned tiles. Popular geometric patterns include kikkou (turtle shell) and asanoha (hemp leaf) among other styles. These "tiles" are then bound and combined in a larger block or mosaic formation of various shades and colors. Once the pattern design is finalized, the block of wood is ready to be carved into a desired object such as the Hakone Ekiden race trophy.
Another technique, zuku-hari, involves using a wood plane to shave a mosaic block into wallpaper thin sheets. These elaborately patterned sheets can then be pasted on the surface of various products.
Typically, this is used in covering boxes, from pencil cases to himitsu-bako (puzzle boxes). In order for the puzzle box's inner compartment to be revealed it is necessary to loosen devices via a series of moves in a specific order to unlock the box.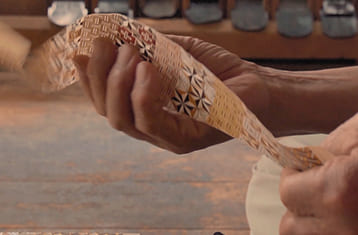 Exhibition at Aoyama Square
For those unable to make it to Hakone, a special exhibition of yosegi-zaiku artworks will be displayed from Aug. 21 to Sept. 3 at Aoyama Square, a gallery and store located in Tokyo's Minato Ward that specializes in outstanding Japanese arts and crafts. Woodcraft artisans are scheduled to give demonstrations and talks during the exhibition.
Aoyama Square also stocks yosegi-zaiku pieces as part of its regular collection of over 6,000 items. People who want to engage more deeply with traditional crafts can attend workshops where experts demonstrate their skills. Opportunities are provided for participants to try out specific techniques. Please refer to the following gallery website for more information.