KAGAWA TOURISM
ISLAND-HOPPING ACROSS THE SETO INLAND SEA
Although Kagawa is the smallest prefecture in Japan, its natural features are diverse and its culture is rich. It is located in the northeastern part of the island of Shikoku on the Seto Inland Sea. Blessed with a mild climate and sunny weather throughout the year and many attractions in both city and rural areas, including small islands, Kagawa receives more than 9 million tourists annually from Japan and abroad.
---
Takamatsu's historic garden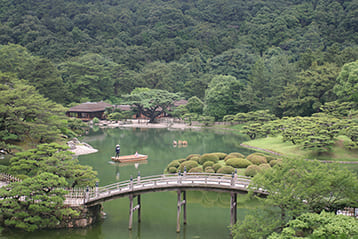 Awarded three stars by the Michelin Green Guide Japan, Ritsurin Garden, an approximately 400-year-old traditional garden, is considered on par with the Three Great Gardens of Japan (Kenroku-en in Ishikawa Prefecture, Korakuen in Okayama Prefecture and Kairaku-en in Ibaraki Prefecture).
It is also the largest among all the gardens designated as a Special Place of Scenic Beauty by the national government's Agency for Cultural Affairs. It takes more than 100 minutes to thoroughly explore the garden.
Skillfully managed greenery interspersed with ponds and water channels, seasonal flowers, historic buildings and the artistic layout of garden stones can be enjoyed in various parts of the garden that covers about 16 hectares.
The garden's approximately 1,400 pine trees, about 1,000 of which are beautifully shaped and pruned by experienced gardeners, are a must see.
There is also the Sanuki Folk Craft Museum in the center of the garden that preserves and showcases traditional craftworks, household items, furniture and kawara roof tiles produced in Kagawa. Some of the locally created artisan works include rihei-yaki ceramics, which have about 400 years of history, and Kagawa lacquerware as well as lacquered papier-mache dolls called Takamatsu Hariko. The museum is open from 8:30 a.m. to 5 p.m. and closed on Mondays (Tuesday if Monday is a national holiday). Admission is free.
Ritsurin Garden is located in the northern part of the prefectural capital city of Takamatsu, about three minutes from JR Ritsurin Koen Kitaguchi Station.
Admission is ¥410 per adult and ¥170 per child, and the garden is open every day from 5:30 a.m. to 7 p.m. until the end of August.
Check the website for more information and operating hours after August.
---
Long staircase for pilgrimage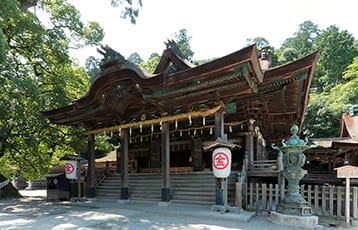 Kotohira-gu shrine, locally known as Konpira-san and located in the town of Kotohira, is famous for its long staircase consisting of 1,368 steps.
Along the approach to the shrine, there are many historic sites and cultural assets, as well as souvenir shops, cafes and udon (thick wheat noodle) restaurants. The shrine that worships the god of the sea has attracted pilgrims and visitors from all around Japan since ancient times.
Kotohira-gu shrine is about 10 minutes on foot from Kotohira Station on the JR Dosan Line.
Right next to the front approach of the shrine is Kotohira Park with walking trails surrounded by lush greenery. From the mountaintop observatory, the main building of Kotohira-gu shrine and part of the staircase can be viewed to the west and Marugame Plain to the north. To the east is Mount Iino, which is referred to as Sanuki Fuji from its resemblance to Mount Fuji, with small islands on the Seto Inland Sea and the Seto Ohashi Bridge in the background.
---
Island trips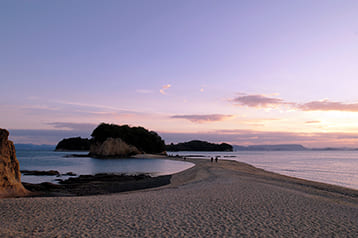 There are 24 islands accessible in about 20 to 60 minutes from several ports in Kagawa. Some of them are also accessible by bus via the Seto Ohashi Bridge.
One of the most popular destinations is Shodoshima island, which is known for beautiful vistas of windmills and Japan's first olive plantations. There is a scenic sandy path connecting Shodoshima island and the neighboring Benten Island called Angel Road that only appears twice a day at low tide.
Local legend says that couples who walk Angel Road hand in hand will live happily ever after.
Shodoshima island is one of the locations where installations and works of modern art that belong to Art Setouchi, a series of art events and activities, including the Setouchi Triennale, are showcased. Some of the works from the last Setouchi Triennale held in 2019 are exhibited exclusively on the island.
It takes one hour from the port of Takamatsu to reach Shodoshima island by ferry. The fee is ¥700 per adult and ¥350 per child.
---
Udon mecca
Udon noodles made in Kagawa are called Sanuki udon, as Sanuki is an old name for Kagawa. Sanuki udon is loved throughout the country for its chewy texture, and it is best enjoyed at a local restaurant the way that local people eat it.
There are hundreds of udon restaurants, some of them attached to udon factories. Some udon factories, restaurants and hotels offer udon making workshops allowing visitors to experience the process of kneading, treading the dough with feet, rolling out and cutting the dough.
Cooked perfectly al dente, Sanuki udon can be best enjoyed the simplest way possible which is with dashi mainly made of dried small sardines. There are also various other ways to enjoy udon, such as udon in curry soup or with stir-fried beef, zaru udon which is served cold with a dipping sauce, and kamatama udon which is drained hot udon noodles with a raw egg and soy sauce.
Dried udon noodles that can be preserved for a long time without refrigeration make excellent souvenirs.