SUMMER ESCAPES
WIDE RANGE OF PLANS FOR COMING SUMMER
Summer plans for 2020 may be very different to how they were envisaged at the beginning of the year.
A colorful yukata (lightweight summer kimono) catches the eye; wooden geta click-clack on the pavement, their timbral echoes offering a warm-weather reminder of heading to a summer matsuri (festival); while the sounds of fūrin wind chimes evoke memories of summers past.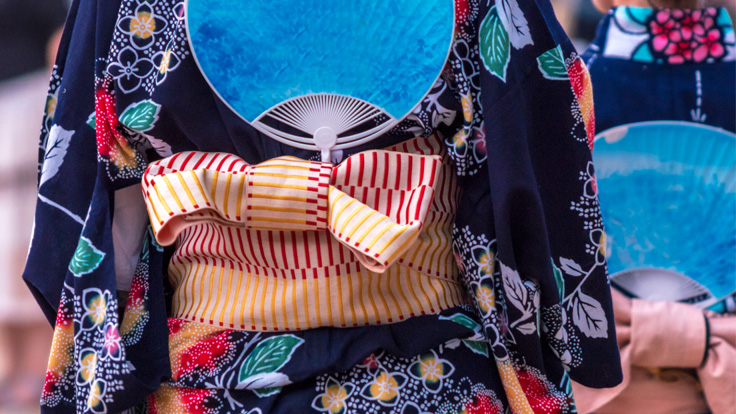 Summers in Japan tend to feature soft-serve ice cream and kakigōri shaved ice creations, flavored with vibrant matcha and adzuki beans, or other Japanese twists. Ambitious fireworks displays that light up the skies Japan-wide with a riot of sound and color are also de rigueur, with fireworks kits readily available for families.
Street food commonly associated with festivals — corn on the cob and yakitori chicken skewers — enjoyed with an ice-cold beer is another summer highlight.
However different this year might be, by incorporating some of the items mentioned above, it's still possible to recreate the feeling of a typical Japanese summer at home or at tourism accommodations that are reopening now that Japan's state of emergency has been lifted.
The national government is gearing up for its Go To domestic travel initiative, where people can receive vouchers and discounts of up to ¥20,000 for travel within the country.
The gentle easing of self-restrained travel restrictions sees the domestic travel sector making cautious moves to reopen facilities. Such actions are amid concerns that too rapid a return to practices associated with pre-pandemic times could mean an uptick in COVID-19 case numbers.
Crucial to domestic travel's success is the ongoing adoption of social distancing to avoid the "three Cs." These are closed spaces with poor ventilation, crowded places filled with people and close-contact settings where ongoing and close-range conversation can occur.
The onus is not only on individuals to remain safe, but also for Japan's tourism industry to adapt to the challenges presented by COVID-19. Some innovative players are even moving their operations online.
All information is subject to change.
---
Hotels and inns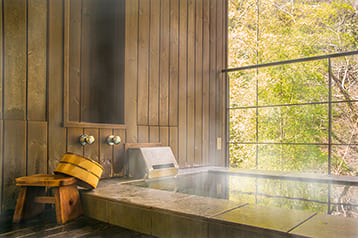 Now that self-restraint restrictions have been removed from domestic travel, it's time to extend one's radius outside the home. Booking a well-earned post-lockdown holiday satiates not only any wanderlust but also aids the economy.
Practicing the three Cs is a must to avoid further COVID-19 outbreaks.
A short "reset" at an onsen hot spring bath resort such as Tsuki no Yado Sara in Hakone,Kanagawa Prefecture, enables guests to easily keep their distance from others. Private baths and meals delivered to rooms are standard for such facilities. Other hotels are operating under altered circumstances to minimize COVID-19 risks. One such example is the newly opened Shirono Hotel in Kofu, Yamanashi Prefecture, adjacent to JR Kofu Station.
The COVID-19 pandemic saw the business hotel, which also acts as a showcase for regional art and culture, delay opening for over two months.
The Shirono Hotel is reducing overall venue capacity as part of its strategy to maintain appropriate social distancing.
Only 50 percent of rooms are being used with every other room being made available for guests. After use, rooms are thoroughly disinfected and ventilated for at least 24 hours.
The number of bathers allowed in the hotel's onsen is limited to 10 per hour.
---
Camping and 'glamping'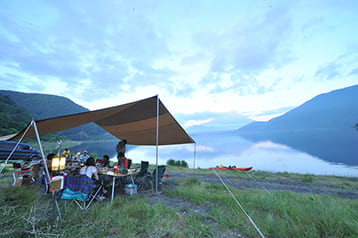 Corporate retreats, adventure holidays and wellness tourism are all said to have impacted the rise of "glamping," a portmanteau of glamorous and camping. Yet the sector's boom is also driven by practicalities such as not having to buy or transport heavy camping gear, making it increasingly popular with couples, small groups and families alike.
Japan's camping and glamping sector looks to be a significant beneficiary of how people vacation during the COVID-19 era to minimize risks associated with the three Cs.
An alternative is traveling by recreational vehicle (RV) or "camping-car" as motorhomes are known in Japanese.
Glamping sees accommodations range from stylishly decorated tents with all the mod cons to cabin or villa types. Farm-to-table dining and outdoor bathtubs are typically the norm. Forget about sleeping bags — these upscale campsites boast luxury bedding and premium linens. Wi-Fi connections are standard unless one really wants to get off the grid.
Some glamping facilities are reducing on-site group numbers to combat COVID-19. Independent tents or private villa types offer the most protection while outdoor barbecues and activities allow privacy or solitude and provide peace of mind.
---
Online and virtual tours
Can a picture really tell a story? The advent of COVID-19 has seen several Japan-based venues and tour operators aiming to find out.
As the ongoing easing of travel restrictions remains in constant flux, more operators are expected to join in a rollout of online and virtual tours. Consider such tours as whetting one's appetite for when travel restrictions are fully lifted.
These tours are undoubtedly the safest way to "travel" during the pandemic, especially for the elderly or immunocompromised.
Online and virtual tours also allow people to experience popular attractions without the crowds.
Many tours are free. Payment may help a business retain its staff as visitor numbers to Japan have plummeted, or assist in the upkeep or renovation of physical facilities.
If Japanese language skills aren't a problem, the Kotohira Bus company in Kagawa Prefecture allows passengers to join virtual tours for a fraction of their real-life cost. Participants are guided by bus drivers and "see" local attractions via Zoom meeting software.
Souvenirs, bento and other foodstuffs can be sent before the tours so that participants can connect with the area they are visiting.