HANEDA AIRPORT GARDEN
NEW HOTEL COMPLEX RICH IN CULTURAL DRAWS
Sponsored content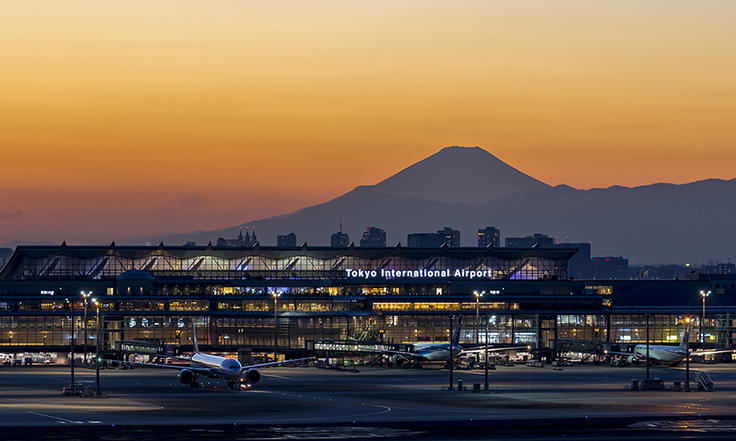 Although perhaps not as famous as Narita, Tokyo's Haneda Airport has more than earned its unofficial nickname of "Gateway to Japan." Factoring in domestic flights, it remains Japan's busiest port of travel, and often near the top of various international rankings. In 2022, Skytrax ranked it No.1 on its list of the Best Airports in Asia as well as the World's Cleanest Airport.
However, with the recently completed expansion of Terminal 3 — which primarily handles international flights — and the opening of adjacent Haneda Airport Garden, the airport has become so much more. No longer just a gateway to Japanese culture, the new Haneda is now the center of it, a place where visitors can experience the very best the country has to offer.
From amazing food sourced nationwide to a rooftop hot spring and the largest airport hotel in Japan (1,717 rooms combined over two brands), the work put into this new shopping and accommodation complex is sure to bear fruit and make the airport itself a prime travel destination.
Stylish hotels beckon to visitors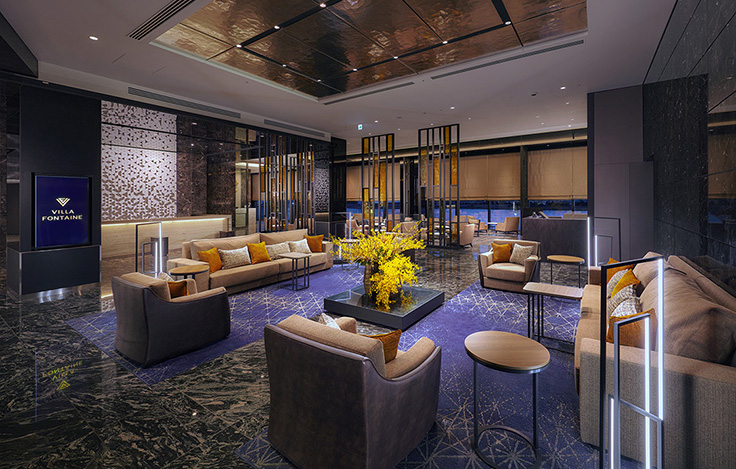 The 12-story Haneda Airport Garden opened in January but its two new hotels, the Villa Fontaine Grand (1,557 rooms) and the more exclusive Villa Fontaine Premier (160 rooms), were already accommodating guests in December. That's understandable, seeing as many were waiting a very long time to experience the hotels, which were delayed three years by the COVID-19 pandemic. But now the wait is over and, subsequently, so is the era of landing at Terminal 3, finding out the airport's previous solitary hotel was booked, and boarding a bus or train to find another place to stay.
Because the hotels are directly connected to Terminal 3, getting to them is a breeze even in bad weather. After passing the shared foyer and heading toward either hotel, visitors have a lot to look forward to.
At the Villa Fontaine Grand, for example, guests can choose from 12 room types depending on their needs, including double, twin, triple and "ladys rooms" in its exclusive women's area. Tatami rooms are also available, but with the hotel having so much to offer, it'd be a shame to spend too much time in the room. The hotel's other amenities include a coin-operated laundry, a guest-only gym and the Bellesalle MICE (meetings, incentives, conferences and exhibitions) event space, which has 10 meeting rooms and a large hall with a capacity of 1,000.
The Villa Fontaine Premier offers an extra touch of luxury for more discerning travelers.
The 160-room hotel makes a bold promise to bestow guests with a "rest that goes beyond space and time," starting with spacious rooms with river views and an interior that creates a feeling of total relaxation while also being a shining example of Japanese aesthetics. This has been achieved through the use of various Japanese arts and crafts, such as gold leaf or kumiko woodworking decorations where the pieces are assembled in beautiful patterns without the use of nails. A total of six room types are available at the Villa Fontaine Premier, and guests can additionally enjoy room service, access to a concierge and other extra amenities that are more than worth the price.
Dining options include All Day Dining Grande Aile, which serves Japanese, Western and Chinese buffet-style dishes made from seasonal ingredients. On the fourth floor there is Il Ristorante Tokyo, which despite its Italian name promises to be a place where diners can begin or end their journey with a taste of Japan. The same floor also houses the Bar & Lounge The Throne, offering views of the Tama River and Tokyo nightscapes, making it a great place to meet new people and relax after dinner. Please note, though, that the bar requests that guests refrain from dressing overly casual.
The opening of the two hotels could not have come at a better time as Japan is in the middle of ushering in an influx of visitors after lifting COVID-19 border restrictions. It's estimated the country might return to its pre-pandemic pace for inbound tourists, which was about 32 million, as soon as 2024. This year might see Japan welcome up to 20 million.
Hot spring offers dazzling views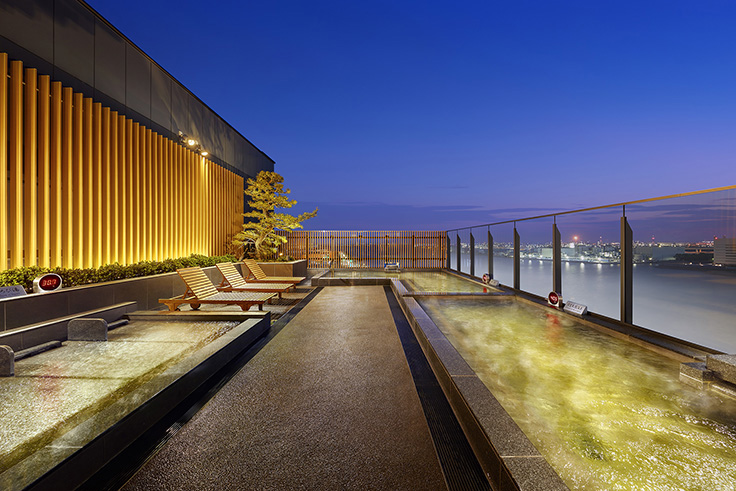 One of the most enticing parts of Haneda Airport Garden is the spa and hot spring facility on the 12th floor. The Izumi Tenku no Yu, which is supplied with natural onsen (hot spring) water, consists of four indoor baths and an open-air rooftop bath that features stunning views of the Tama River and Haneda Airport. There really is nothing quite like a nice night soak while enjoying the lights of planes taking off and landing or the illuminated silhouette of Tokyo in the distance. During the day, when the weather is clear, bathers may even spot Mount Fuji, Japan's famous sacred mountain and the international symbol of the country.
Onsen often like to extol their recuperative properties and Izumi Tenku no Yu is no exception. As an "iodine-containing high sodium chloride (hypertonic slightly alkaline)" hot spring, a dip in its rooftop waters can apparently alleviate various ailments, including dry skin, poor blood circulation and peripheral circulatory disorders. In addition, the onsen boasts a sauna and spa treatments — including massages — for paying customers, as well as exclusive access to the adjacent Dining & Izumi Tenku gourmet restaurant.
These facilities are available to all passengers using Haneda, but even those not staying at one of the Villa Fontaine hotels can use Izumi Tenku no Yu, though hotel guests do enjoy a discount.
Izumi Tenku no Yu offers all necessary bathing supplies, allowing travelers to just hop in whenever the mood strikes them, except for between 10 a.m. and 1 p.m. when the baths are closed for cleaning. Experience the height of luxury by starting or ending your journey with a soak in the hot, relaxing waters atop the Haneda Airport Garden. Please note, though, that guests with tattoos that cannot be covered up will be denied entry to Izumi Tenku no Yu.
Souvenirs, food from across Japan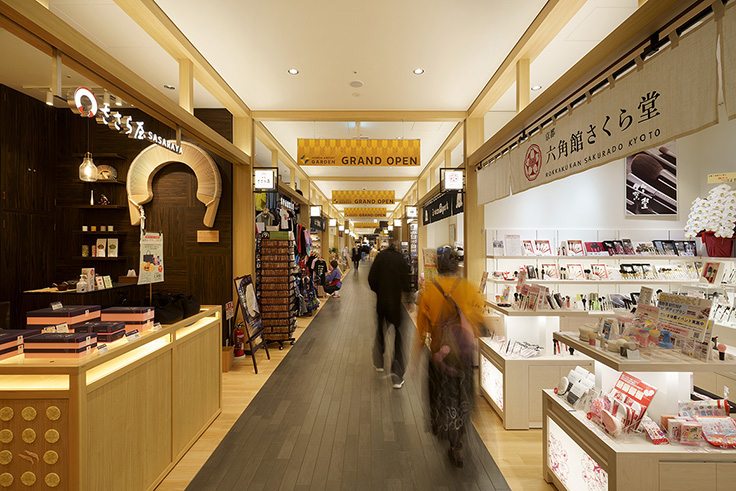 The two-story shopping and restaurant part of Haneda Airport Garden consists of a variety of shops organized into several zones. One is the Japan Promenade, a long corridor linked with Terminal 3 (and other areas) that is lined with shops selling goods representative of Japanese culture and craftsmanship. Other zones include the Haneda Collection, Haneda Sando and Haneda Food Selection. Other stores can be found throughout the facility.
The department store-like Haneda Collection has additional things travelers would like to use during their trips.
Haneda Sando meanwhile offers a chance to buy souvenirs from around Japan, including local brands of sweets, sake, tableware and clothing. Each shop in this zone is marked by the torii motif.
The restaurants range in style from shops overlooking the spacious food court built for 230 people, to high-class bistros, buffets and more. Altogether, these places will be able to accommodate casual diners and foodies as well. Many of the restaurants serve up staples of Japanese cuisine, such as shabu-shabu (a hotpot dish of thinly sliced meat and vegetables), teppanyaki (iron grill dishes), sushi, eel, okonomiyaki (as-you-like-it pancakes) or misokatsu pork cutlets served with rich miso sauce. But the mall also serves non-Japanese fare, including, among others, Chinese.
All in all, visitors to Haneda Airport Garden have access to around 60 shops and 20 restaurants, cafes and eateries. When not enjoying the amazing food, visitors to Haneda Airport Garden can also walk around and pick up souvenirs and products from every corner of Japan. From beauty products to electronics, stationery, wooden art, T-shirts and toys, travelers can get a lot of their shopping done right at the beginning or end of their journeys. The mall even includes Tobi Bito Sweets Tokyo, a store selling Japanese confectioneries in boxes featuring ukiyo-e designs. It was a first for this shop to gain permission from the Tokyo National Museum to use Japan's famous paintings on its packaging.
Of course, guests who would rather buy all the regional treasures of Japan at the source can easily do so thanks to the new bus terminal that is easily accessible from the ground floor. The buses currently serve the most popular areas in Honshu, with more routes set to be added in the future. The terminal is situated right next to the Tokyo Monorail and the Keikyu Line, guaranteeing that no matter how much Haneda Airport evolves and expands, it'll always remain the much-appreciated gateway to Japan at heart.