CHERRY BLOSSOMS
FLOAT ON BY SPRINGS COLORFUL COMING OUT
Japan's sakura (cherry blossoms) are not only beautiful, but also an ingenious piece of social and civil engineering. During the Edo Period (1603 to 1868), heavy rains often caused riverbanks to collapse and cause devastating floods. According to some accounts, the eighth Tokugawa shogun, Tokugawa Yoshimune, came up with a cost-effective solution to the problem when the country was struggling financially. Not having enough funds to hire workers to go around reinforcing banks with heavy soil compactors, Yoshimune reportedly ordered cherry trees to be planted along Japan's rivers, lakes and other bodies of water.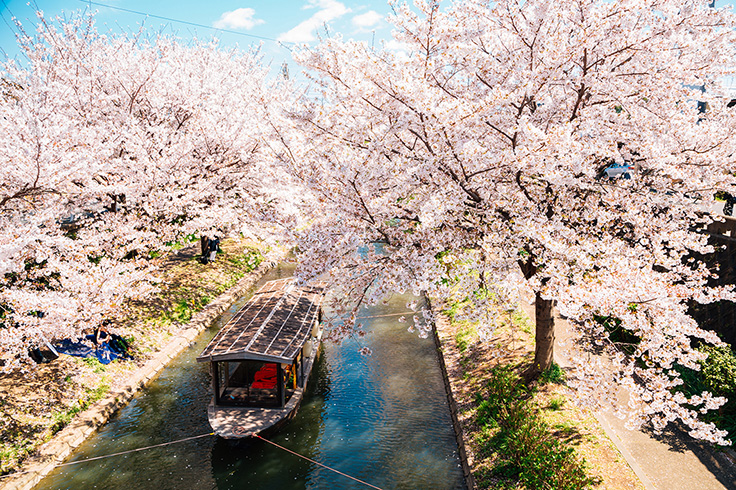 The idea was that when the trees bloomed in early spring, the people gathering to admire the evanescent petals during a custom known as hanami would harden the surrounding soil by simply walking along the banks. So, it would be fair to say that the unofficial national flower of Japan is also a disaster-prevention measure. It worked out pretty well for the cherry trees themselves, as the ones planted near water enjoy healthier lower branches because they get access to life-giving sunlight reflecting off the surfaces of rivers and lakes. Below are some of the best places around Japan to see these miracles of nature and human resourcefulness up close.
---
Goryokaku Park (Hakodate, Hokkaido)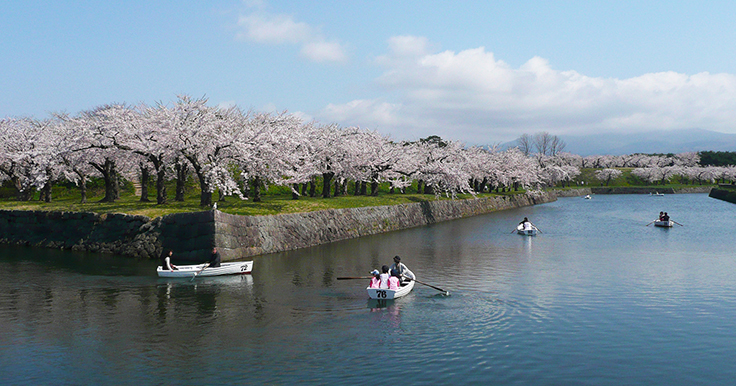 As an ex-artillery battery, Goryokaku's past may be dark but its present is more colorful than ever, especially in spring when the park's cherry trees start to blossom.
A great way to experience the beauty of this star-shaped fortress is by renting a rowboat from Goryokaku Park Boat Rental and paddling through the park's moat while admiring the sakura lining its banks. The moat is only 1.5 kilometers long and can be traversed in 30 to 40 minutes at a steady pace. However, rowers are encouraged to take their time admiring the cherry trees and Goryokaku's other nature up close while enjoying the breeze on their faces.
Dates: Late April to early May
Price: ¥2,000/two people, ¥2,500/three people, ¥2,800/four people
Access: Buses and trams departing from JR Hakodate and Goryokaku stations

---
Hirosaki Park (Hirosaki, Aomori Prefecture)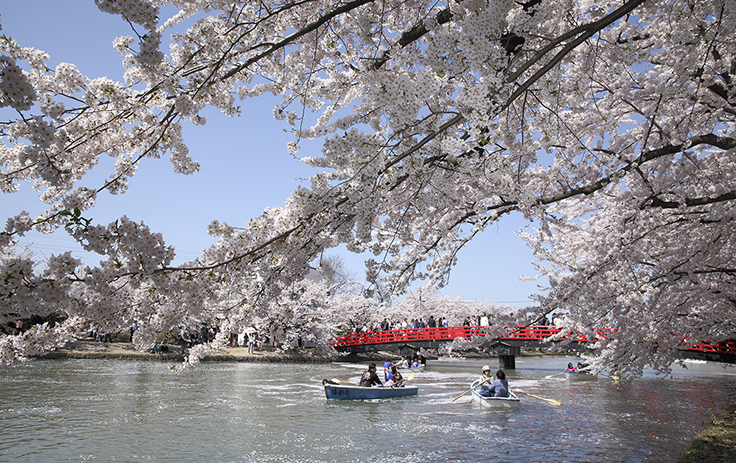 Centered around the 17th century remains of Hirosaki Castle, Hirosaki Park is considered by many to be one of the three best cherry blossom viewing spots in Japan."
Each year, people from all over come to Hirosaki to confirm that fact for themselves during the Cherry Blossom Festival. Not only is it a lively celebration of one of the most picturesque places in Japan, it's also the only time when visitors can rent a boat and ride around Hirosaki Castle's west moat. Paddling through the calm waters with your friends or family while being surrounded on both sides by a sea of pink cherry trees in bloom is sure to create memories that'll last a lifetime.
Dates: Late April to early May
Price: ¥1,000/boat (three people max.), 60-minute limit
Access: 20-minute bus ride from JR Hirosaki Station

---
Chidorigafuchi moat (Tokyo)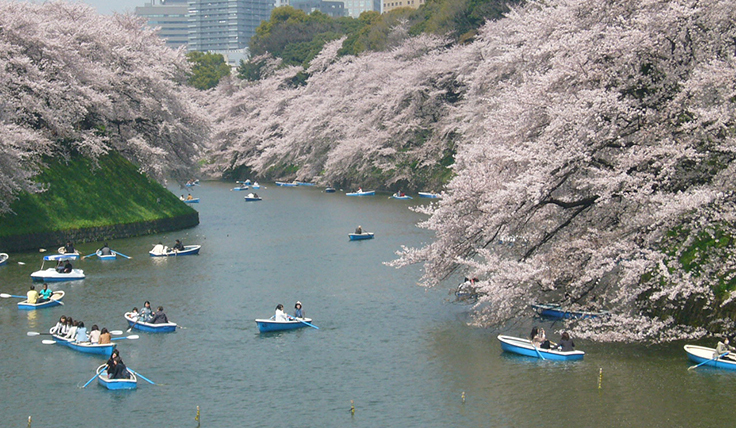 Located in the northwestern part of the Imperial Palace grounds, the 700-meter-long Chidorigafuchi moat reportedly got its name from its shape, which resembles a plover bird, known as chidori in Japanese.
The area is one of the most popular cherry blossom-viewing spots in the capital, with most people enjoying the trees from the walkways along the moat. Rowing, however, is also an option in early spring, allowing visitors to admire Japan's resplendent sakura and a famous Tokyo landmark from brand-new angles.

Boats can be rented at the Chidorigafuchi Boat Park, though please note that parts of the moat may be closed off for safety reasons and that private filming or photography without prior authorization is strictly prohibited.
Dates: Early March to early April
Price: ¥1,600/hour, ¥800/30 minutes
Access: 10-minute walk from Tokyo Metro Kudanshita or Hanzomon stations
---
Lake Biwa (Shiga Prefecture)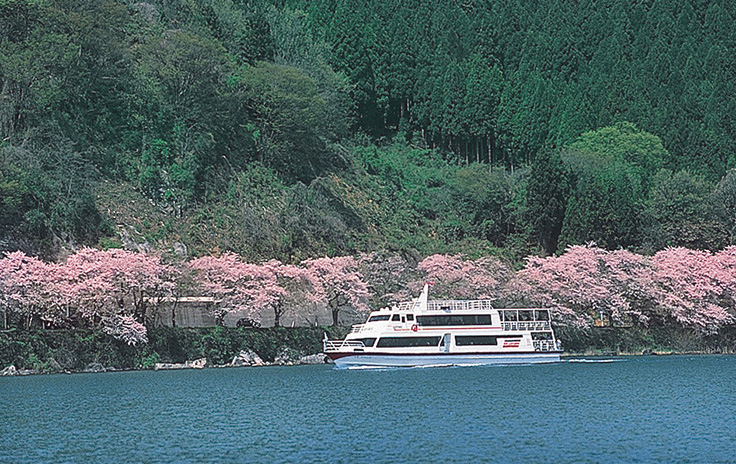 The Kaizu-Osaki Peninsula that juts into Lake Biwa is one of the most popular hanami sites not just in Shiga Prefecture, but in all of Japan. In fact, Kaizu-Osaki is considered one of the 100 best cherry blossom-viewing spots in the country, thanks to its 800 Yoshino cherry trees spread across a 4-kilometer-wide area.
Understandably, in the spring, the peninsula can get a little packed, so why not avoid the crowds and admire the beautiful sakura petals from the water? During hanami season, visitors to Lake Biwa can rent a canoe or take a cherry blossom-viewing cruise that will give them front-row seats to Japan's annual symphony of color.
Canoeing:
Dates: Late March to mid-April
Price: ¥7,800 (Adults), ¥4,900 (Children); Two people per canoe
Access: Free transportation from JR Makino Station (two people or more)
The "Megumi" Hanami Cruise:
Dates: March 25 to April 16
Price: ¥3,500 (Adults), ¥1,800 (Children)
Access: 5-minute walk from Omi-Imazu Station to Imazu Port