AUTUMN FOLIAGE
COLORFUL FALL LEAVES LIGHT UP ARCHIPELAGO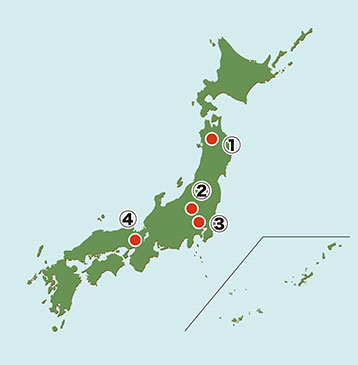 'Here are brocades of red leaves, as a tribute to the gods." That's how the scholar and poet Sugawara no Michizane (845-903) once described the sight of fall foliage. Just from a small portion of his poem, it's clear how important trees changing color are to the Japanese.
The custom of traveling to scenic locations to admire autumn leaves became popular in Japan during the Edo Period (1603-1868). But its origins go as far back as the eighth century, which is when the practice got its interesting name. Autumn leaf viewing is momijigari in Japanese, which means "autumn leaf hunting." There are various theories explaining the "hunting" part but they all go back to the ancient beginnings of momijigari.
During the Edo Period, momijigari destinations included everything from provincial villages to gardens, temple precincts and other areas. In its early days, the custom involved the nobility of Nara and Kyoto exploring remote forests, much like an actual hunt. Some also collected "trophies" in the form of broken-off branches of maple or ginkgo trees. Nowadays, that sort of collecting is discouraged, but on the plus side, there are more momijigari grounds in Japan than ever before. So many in fact, that a lot of people get overwhelmed and don't know where to go to enjoy Japan's autumnal color display. To help with that, some suggestions are listed below.
① Tsutanuma pond (Aomori)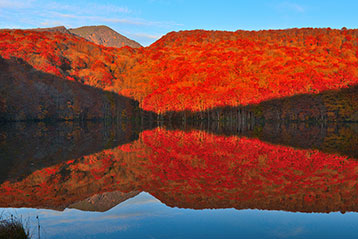 Located within the Towada-Hachimantai National Park, Tsutanuma pond is famous for the clarity of its water that gives it a mirrorlike sheen. During early autumn mornings when the weather is just right, the red and orange of the surrounding beech and maple trees reflect mesmerizingly in the pond, creating a seemingly never-ending vista of color that's like something out of a dream. After enjoying the foliage, visitors can relax at the nearby Tsuta Onsen.

Best Time to Visit: October
---
② Kegon Falls (Tochigi)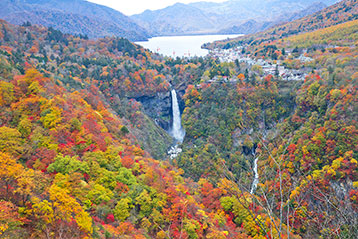 Considered one of the three most beautiful waterfalls in Japan, the majestic 97-meter-high Kegon Falls in Nikko enchant visitors all year round. But in autumn, the white-and-blue of the falls clashes beautifully with the surrounding red, yellow and orange leaves, combining tranquility with a breathtaking show of the power of nature like no other place in Japan. The display can be enjoyed up close from the falls' observation platforms, or from afar via the Akechidaira Observatory.

Best Time to Visit: Mid-to-late October
---
③ Meiji Jingu Gaien (Tokyo)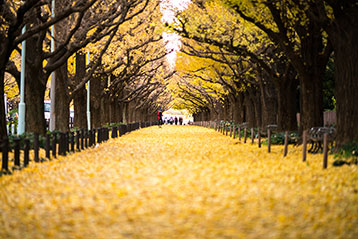 Finding incredible fall foliage scenery in Japan doesn't always require a lot of traveling. Meiji Jingu Gaien, located east of Meiji Shrine in central Tokyo, is a dazzling example of that. Since 1997, the complex has celebrated the Jingu Gaien Ginkgo Festival every autumn when 146 ginkgo trees carpet its 300-meter-long avenue with golden leaves. Combined with the grand Meiji Memorial Picture Gallery in the background, this momijigari spot is also a shutterbug's dream destination.

During this festival, people dressed as Namahage perform a dance and play taiko drums among other activities, culminating in a march of torch-bearing Namahage descending from a mountain to the shrine.

Best Time to Visit: Mid-November to early December
---
④ Arashiyama (Kyoto)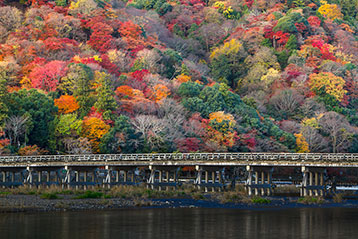 Kyoto's famous forested mountain slowly starts to turn into a colorful checkerboard of red, yellow and orange around September. Viewed from afar and with the iconic Togetsu-kyo Bridge over the Katsura River in the foreground, it creates a gorgeous scene — not unlike a living painting — that anyone can enjoy up close by hiking through the Arashiyama mountainside. The areas around the local Tenryuji and Jojakkoji temples have also been highly praised as premier momijigari spots.

The temple was originally built in 1196 at a site belonging to the residence of the Ashikaga clan. Ashikaga Takauji later founded the Ashikaga shogunate, also known as the Muromachi shogunate, in Kyoto.

Best Time to Visit: Mid-November to December