HATSUMODE
START THE YEAR RIGHT WITH HATSUMODE

Hatsumode — visiting a shrine or temple to pray for good fortune in the coming year — is one of Japan's most enduring New Year's traditions. Some temples start the festivities the night before, with visitors gathering to watch as the temple's bell is rung to mark the end of the old year and the arrival of the new one. Many more people pay their respects at temples or shrines after the new year begins, usually between Jan. 1 and 3, and popular shrines and temples may get very crowded. However, if you would prefer to avoid the crowds, it is also perfectly acceptable to visit later in the new year, generally up to Jan. 7.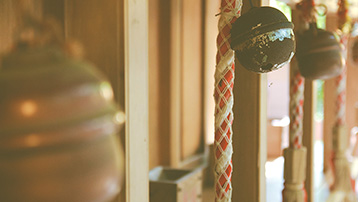 While there are some variations, as a general guide, people throw a coin into the offering box, ring the bell as way of greeting the deity, bow twice, clap their hands twice and then close their eyes and pray silently for the coming year. Finally, they bow again before making way for the next person in line. It is recommended to dress warmly when setting out for hatsumode, as the visit may involve lining up for some time.
Hatusmode comes with opportunities to buy traditional Japanese lucky charms called omamori.
People can purchase ones to suit their needs, including those for health, wealth and love. Also popular are omikuji(fortunes), which are written on paper strips. After reading the year's fortune, people can either tie it in a designated area or keep it until next year. One more appealing hatsumode custom is the purchasing of decorative wooden plaques called ema. People can write their wishes on them — in any language — and tie the ema in a designated area.
To have a safe and enjoyable hatsumode experience this new year, be sure to follow guidelines such as wearing masks, washing hands frequently, practicing social distancing and visiting in small groups. Consider timing your visit after Jan. 3, when most temples and shrines are less busy. Some temples have introduced their own innovations, such as swiping a QR code on your phone to select a paper fortune instead of doing so by hand.
Here are five spots to consider for a hatsumode visit:
Tokyo Daijingu shrine: Relationships and marriage
In 1900, Tokyo Daijingu became the first shrine to hold a wedding ceremony, and it is a magnet for those seeking a life partner or successful marriage. It is particularly popular with young women who come to buy omamori charms.
http://www.tokyodaijingu.or.jp/english/index.html

Kanda Shrine: Business benefits
One of the three deities enshrined here is Ebisu, who is thought to bring good fortune and help to those in business. As a result, the temple has become a popular place for businesspeople to pray for a prosperous year ahead.
https://www.kandamyoujin.or.jp/

Yushima Tenjin: Academic excellence
Also known as Yushima Tenjin, this shrine honors the ninth century scholar Michizane Sugawara (845 to 903). Students hoping for success in school or university entrance exams visit to write their wishes on an ema.
https://www.yushimatenjin.or.jp/pc/index.htm

Fukutoku Shrine: Lottery luck
This small shrine is considered an auspicious spot for those hoping to win a lottery. It has a long history of association with winning, as it was one of the only shrines authorized to sell lottery tickets in the Edo Period (1603 to1868).
https://mebuki.jp/en/

Suitengu shrine: Fertility and childbirth
The shrine honors the child Emperor Antoku (1178 to1185) and his mother, and is visited by those seeking safe childbirth or for help with conception. A popular statue of a mother dog there symbolizes how dogs deliver strong, healthy puppies.
http://www.suitengu.or.jp/